The Boho Baker's Carrot & Courgette Cake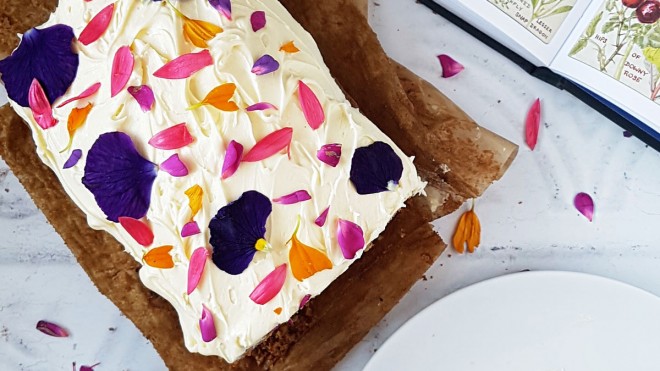 Ingredients
250g butter
200g caster sugar
3 eggs
250g self raising flour
2 oranges, zest only
1tsp bicarbonate of soda
1tsp mixed spice
100g grated carrots
100g grated courgettes
For the Frosting
300g icing sugar
50g unsalted butter
125g cream cheese
Dash of fresh orange juice
Edible flowers (optional, Booths do not currently sell these)
Instructions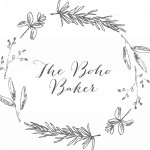 The Boho Baker describes herself as "Baker. Writer. Forager. Wanderer. Organic ingredient and edible floral Enthusiast. Member of the Guild of Food Writers." Very local to our HQ in Preston, she's kindly agreed to do a series of recipes for us, celebrating the best of our local produce. Follow her on instagram @thebohobaker.
This spicy loaf cake is deliciously moist thanks to the addition of courgette as well as grated carrot. A wonderful afternoon treat, this cake be enjoyed with or without the cream cheese frosting.
Method:
Preheat your oven to 180°c /350°f / Gas Mark 4. Line a loaf tin with greaseproof paper and set aside.
Place all of the dry ingredients in a mixing bowl along with the eggs and orange zest. Using either an electric mixer or a spoon (with a bit of elbow grease), mix until well combined and smooth. Gently fold in the grated carrot and courgette with a spatula before pouring the mixture into the loaf tin.
Bake in the oven for between 60 and 75 minutes, checking regularly after an hour has passed. The baking time can vary depending on how much moisture is contained in the vegetables, so keep the cake in the oven until the top is golden and firm.
Whilst the cake is cooling, it's time to get started on the frosting. Whisk the cream cheese until fluffy, then add the icing sugar and butter and continue to beat until firm. Add a dash of freshly squeezed orange juice for flavour. If the juice makes the frosting a little too runny, add some extra icing sugar one spoonful at a time until it reaches your desired consistency.
Once the cake has cooled, spread the frosting on top of the cake in one thick later. Sprinkle on some edible petals to add a dash of colour. Enjoy with a cup of tea, or store in an air tight container for up to four days.
Hints/Tips/Troubleshooting:
Not into edible flowers? Toasted walnuts or coconut make a great alternative topping.
If you are using edible flowers, discard the centre and stem and use the petals only. Always stay safe and make sure that the flowers you are using were grown for consumption and have not been exposed to chemicals or pesticides.