Pulled Beef and 'Slaw Butty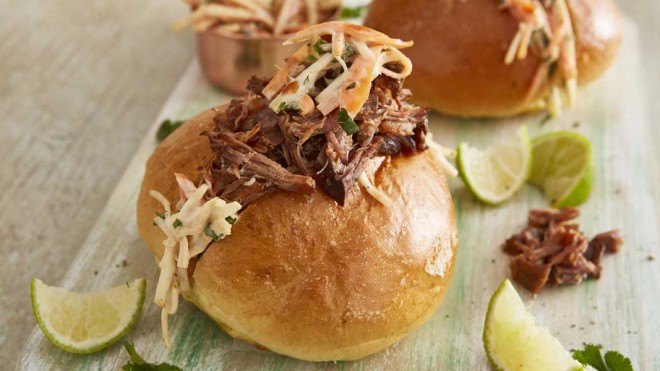 4 servings
20 minutes to prepare
Ingredients
200g leftover stewed beef shin
4 brioche buns
For the slaw
1/4 celeriac, peeled and sliced into thin matchsticks
1 carrot, peeled and sliced into thin matchsticks
2tbsp mayonnaise
1tbsp chipotle sauce
1/2 lime, juice only
2tbsp coriander, chopped
Salt & pepper
Coriander leaves & lime wedges to garnish
Instructions
The ultimate in beef butties, ideal for al-fresco dining and using up your brisket. If you're not a brioche fan, just swap in your favourite bread.
Re-heat the left over stewed beef ensuring it is piping hot. Using 2 forks pull the re-heated beef chunks to shred.
Place all of the ingredients for the slaw into a bowl and mix to combine. Season and set to one side.
Cut each brioche bun across the top approximately 1 ½ inches deep and open.
Spoon a layer of slaw into each bun. Divide the beef between each bun and top with extra slaw.
Garnish with coriander and lime wedges.
Chefs Tip
Switch the brioche buns for French stick, add the beef and top with cheese. Place under the grill and enjoy!
Love your Leftovers
If you are going to store leftover roast to make this recipe, cool it as quickly as possible (ideally within 90 minutes) cover it and place into the fridge. Always use your leftovers within two days of storage. Ensure you cook this recipe until it's steaming hot throughout and importantly, never reheat leftovers more than once.
The optimum time and temperature varies by individual ovens – these are guidelines only. Please ensure all cooked recipes are served piping hot. Keep raw meat separate from cooked food. Use separate kitchen utensils and surfaces for raw and cooked foods, or wash thoroughly in between use. Wash hands after handling raw meat.
Some products may only be available in our larger stores. All content © Booths 2017.