Coconut and Lime Tennis Ball Cupcakes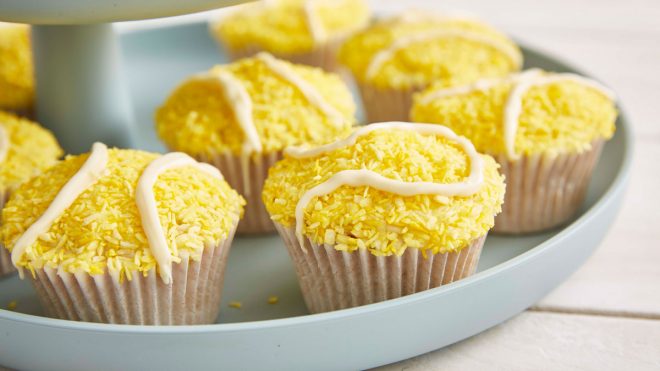 12 servings
1 hour to prepare
Ingredients
For the cupcakes
175g margarine
175g caster sugar
175g self raising flour
3 eggs
1 lime, zest only
For the buttercream
100g salted butter, softened
200g icing sugar
1 lime, juice only
To decorate
100g desiccated coconut
Yellow food colouring
100g lime curd
50g white chocolate, melted
Instructions
Fun to make and absolutely delicious, our coconut and lime tennis ball cupcakes are perfect for a little summer baking fun!
Method
To make the cupcakes
Pre-heat the oven to 160°C(fan)/350°F/gas mark 4.
Line a 12-hole muffin tin with paper muffin cases.
Place the margarine, sugar, flour, eggs and lime zest into a mixing bowl. Beat to combine using an electric mixer.
Divide the mix evenly between the muffin cases.
Bake in the pre-heated oven for 25-30 minutes.
To check the cupcakes are cooked, insert a skewer into the centre, it should come out clean when cooked.
Remove and allow to cool for 10 minutes before placing on a cooling rack to cool completely.
To make the buttercream
Place the softened butter into a large mixing bowl, sift the icing sugar into the bowl. Add the lime juice and beat to form a smooth icing.
 To decorate
Place the desiccated coconut into a bowl. Add the yellow food colouring and mix to create bright yellow coconut.
Using a serrated knife remove a small core of sponge from each cupcake. Fill each cupcake with a spoon of lime curd and top with the sponge core.
Spread the top of each cupcake with buttercream. Dip the top of each cupcake into the yellow coconut to cover.
Place the melted white chocolate into a piping bag. Pipe tennis ball seams on top of each cake to turn your cupcakes into tennis balls!
Place on a cake stand to serve.
Chefs Tip
These are great to make with kids. Why not colour half of the coconut green and top with a cup strawberry for a Wimbledon themed garden party?