Bax Botanics Virgin Mojito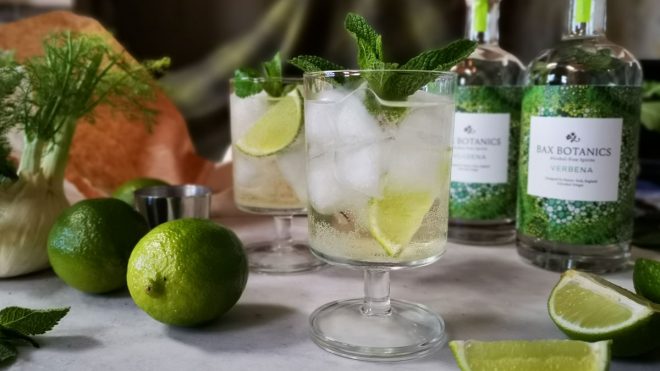 2 servings
5 minutes to prepare
Ingredients
100ml Bax Botanics Verbena
1 lime, juice only
12 fresh mint leaves
30ml sugar syrup
100ml sparkling grape juice
40ml soda water
To garnish
Ice
Lime wedges
Mint leaves
Instructions
Use refreshing Bax Botanics Verbena and make those summer flavours sing out with herbaceous loveliness! The bonus here is that Bax Botanics is an alcohol-free spirit, so you are staying at your absolute best while still enjoying the ultimate summer refresher!
The botanicals here combine beautifully: lime, mint and Bax Verbena. Bax Botanic's recipe adds sparkling grape juice for extra fragrance.
METHOD:
Muddle together the mint leaves with lime juice and sugar syrup in a jug, strain into two glasses and add 50ml Bax Botanics Verbena to each. Add a good scoop of ice and top up each drink with 50ml grape juice and a little soda.
Mix gently and garnish with lime slices and extra mint.
Find out more about Bax Botanics on our blog