Two Picnic Sandwich Fillings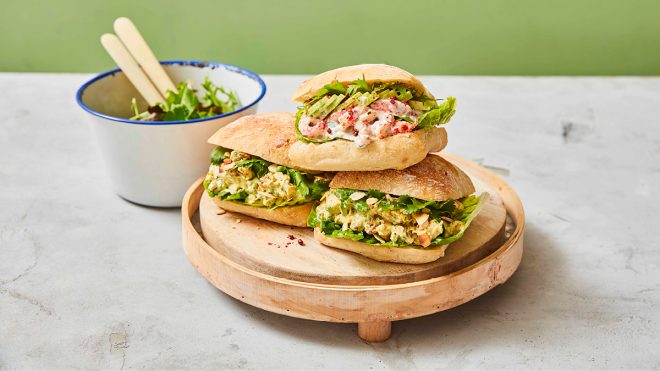 4 servings
10 mins to prepare
Ingredients
No Chicken Coronation Filling
1x 396g pack of firm tofu
1 tbsp olive oil
50g mango chutney
100g crème fraîche
25g sultanas
1/2 lime, juice only
1 tbsp mild curry powder
1 tbsp coriander, chopped
To Serve
4 ciabatta rolls (or rolls of your choice)
10g flaked almonds, toasted
Corinader leaves
1 bag mixed salad
Crayfish with Peppercorn & Tarragon Mayo Filling
2 tsp pink peppercorns
75g mayonnaise
1 tbsp tarragon, chopped
200g crayfish tails
Salt and pepper
To serve
4 ciabatta rolls (or rolls of your choice
2 avocados, sliced
Extra pink peppercorns to garnish
1 bag mixed salad
Instructions
No-Chicken Coronation Filling
Drain any liquid from the tofu block and dry using kitchen roll. Slice the block in half and cut strips approximately 5cm long and 1cm thick.
Heat one tablespoon of olive oil in a non-stick frying pan and brown the tofu strips on all sides in batches. Remove and set to one side to cool.
To make the Coronation sauce, place the remaining ingredients into a bowl and mix to combine. Season to taste. Add the browned tofu strips and mix lightly to coat.
To serve, slice each roll in half. Add a dollop of Coronation tofu and garnish with toasted flaked almonds, coriander leaves and a handful of mixed salad.
Chef's Tip
This Coronation sauce is a great base recipe. Add to torn cooked chicken for a classic sandwich filling. This sauce pairs well with sliced hard boiled egg for a twist on an egg mayo sandwich. In the winter months it makes a great topping for jacket potatoes.
Crayfish with Peppercorn & Tarragon Mayo Filling
Crush the pink peppercorns using a pestle and mortar. Place the crushed
pink peppercorns, mayonnaise and tarragon into a bowl. Mix well.
Add the crayfish tails and season to taste with salt and pepper.
To serve, slice each ciabatta roll in half and toast on a griddle for 1 minute.
Place a handful of mixed salad on each roll followed by a dollop of the crayfish mix and top with the sliced avocado.
Garnish with extra crushed pink peppercorns.
Chef's Tip
The pink peppercorn and tarragon mayo is the perfect seafood accompaniment. Add it to a seafood platter or as a dipping sauce for king prawns. Swap the crayfish in this recipe for crab or prawns for a change.