Mother's Day Pancakes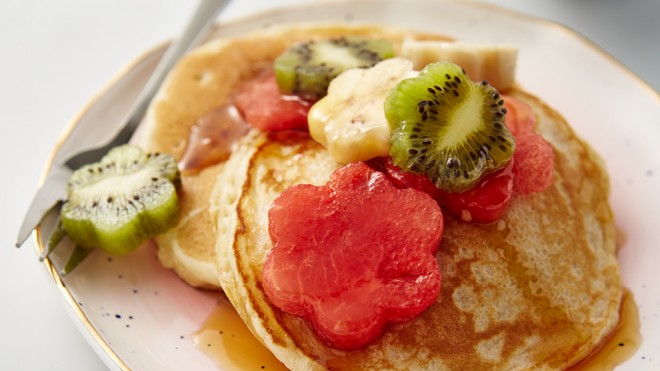 4 servings
20 minutes to prepare
Ingredients
150g self raising flour
1 tsp baking powder
30g caster sugar
150ml milk
1tsp vanilla extract
1 egg
1 tbsp vegetable oil
1 tbsp butter
To Decorate
1 banana
1/4 watermelon
2 kiwi fruit
Maple syrup to drizzle
Instructions
As with all recipes, if you're making this with children make sure they're supervised by an adult at all times.
Method
Sift the flour and baking powder into a large mixing bowl. Add the sugar, stir and make a well in the middle.
In a measuring jug, whisk the milk, vanilla extract, egg, and oil.
Slowly whisk the wet ingredients into the dry, whisking all of the time to prevent lumps.
Heat a large non stick frying pan over a medium heat. Add ¼ of the butter and melt. Spoon 2 soupspoons of batter into the pan for each pancake, cook for 2-3 minutes on each side or until golden brown. You will need to do this in batches melting extra butter as you go. Keep the pancakes warm until you have used all of your batter.
Peel and slice the fruits and use to create Mum's happy face, or using cookie cutters cut shapes out of the fruit, our choice is flowers.
Serve 2 decorated pancakes and drizzle over the maple syrup.
To make Mum's Happy Face, use the batter to make 4 larger pancakes, decorate with banana slices, strawberries, blueberries, green grapes and orange slices to make a smiley happy face.
Chefs Tip
If you are cooking with young children, use store bought pancakes for a quick breakfast solution. To make a chocolate version of these pancakes add 1 tablespoon of cocoa powder to the flour.