Slow Cooker Sri Lankan Lamb Jaffna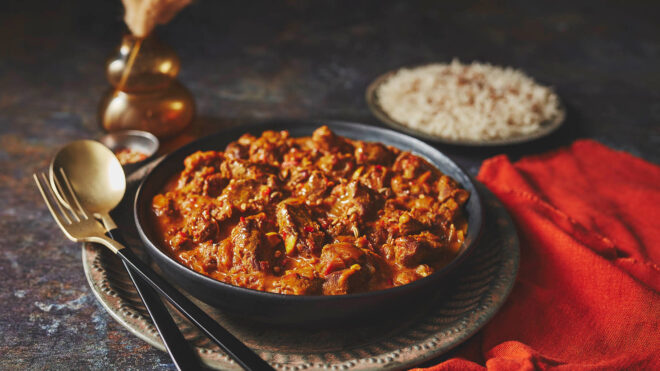 4 servings
30 minutes to prepare
Ingredients
1kg lamb shoulder, diced
50g coconut oil
1 onion, diced
2 sticks lemongrass, bashed with the back of a knife
1 cinnamon stick
1tsp turmeric powder
1/2 tsp cumin seeds, crushed
1/2 tsp coriander seeds, crushed
1/2 tsp fennel seeds, crushed
1tsp chilli flakes
1tsp fenugreek seeds
1tsp curry leaves
5 cardamon pods
1 bulb garlic
50g ginger
1 tin coconut milk
1 tin chopped tomatoes
Instructions
Method:
1. Add the coconut oil to a frying pan, and then brown off the outside of the lamb before adding to the slow cooker.
2. Add the onion and all the spices to the slow cooker and stir well.
3. Liquidise the garlic and ginger with just enough water to form a paste and add to the slow cooker.
4. Stir in the coconut milk and chopped tomatoes and place the slow cooker lid on.
5. Cook on the low setting for 6-8 hours.
6. Once cooked, season to taste and serve with Basmati rice.
Chef's Tip:
Try this recipe with large chunks of sweet potato or celeriac instead of lamb for a plant based twist.