Father's Day Medals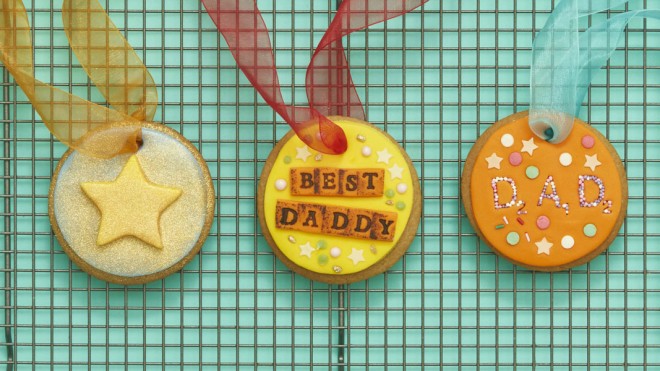 6 servings
60 minutes to prepare
Ingredients
350g plain flour
1tsp bicarbonate of soda
2tsp ground ginger
1tsp ground cinnamon
125g butter
175g soft brown sugar
1 egg
4tbsp golden syrup
Instructions
All dads, step-dads, parents and guardians alike deserve a medal, and the kids can present them with their very own hand crafted version this Father's Day with this simple gingerbread recipe.
Method
Pre-heat the oven to at 180°C / 350°F / Gas Mark 4.
Blend the flour, spices, bicarbonate of soda and butter until it looks like breadcrumbs
Add the sugar, egg and golden syrup and blend until it forms a dough. Wrap in clingfilm and refrigerate for 15 minutes.
Roll the dough out to the thickness of a £1 coin. Use an 8cm cutter to cut out the 'medals' (we've used a round one, you can use any shape you like) and use a 1cm cutter or a skewer to cut a small hole at the edge of each medal, large enough to thread through the ribbon when baked (remember, the hole will shrink as the dough expands when cooking).
Bake on a lined baking tray  for 12-15 minutes and allow to cool on the tray. Decorate each medal before threading with ribbon – take a look at ours for inspiration! We used a range of cutters and ready-made coloured icings, plus edible gold dust. Pay a visit to the homebaking aisle and let your imagination run wild!
We've created these for Father's Day but you could use them for any occasion you like, just switch up the decorations! If you're making these with children, ensure they're surpervised at all times.