Baked Breast of Chicken with Oven Roasted Mediterranean Vegetables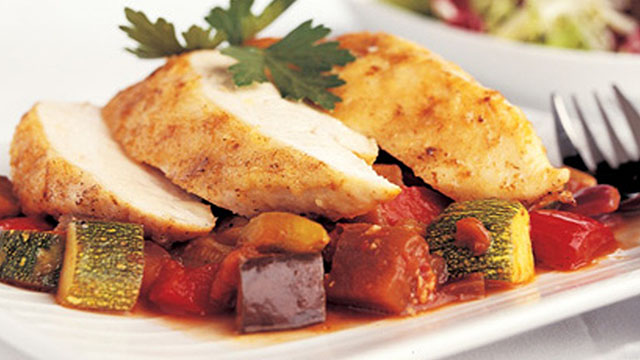 4 servings
60 mins to prepare
Ingredients
4 skinned chicken breasts
1 aubergine
1 red onion
1 red pepper (for the best results use punter peppers)
1 green pepper
3 courgettes
1tsp chopped garlic, alternatively EPC Very Lazy Garlic
1 packet Bay Tree aubergine, tomato and smoked garlic sauce
Booths extra virgin olive oil
Plain flour
Salt and freshly ground pepper
Flat leaf parsley
Instructions
Cut the vegetables as shown into chunky dice.
Preheat a roasting tray for 5 minutes with 1 tablespoon of olive oil in a hot oven 235ºC/450ºF/Gas mark 9.
Add the cut vegetables, mixing them well in the tray and season lightly.
Roast the vegetables until soft, approximately 15 minutes, then add the tomato sauce. Mix well, taste for seasoning, add the garlic and reduce the oven temperature to 200ºC/240ºF/Gas mark 7 and cook for a further 15 minutes.
Meanwhile flour and season the chicken breasts and pan fry in a splash of olive oil until golden brown on both sides. Place the chicken in the oven for 10 minutes on a baking tray