Spring Chicken One Pot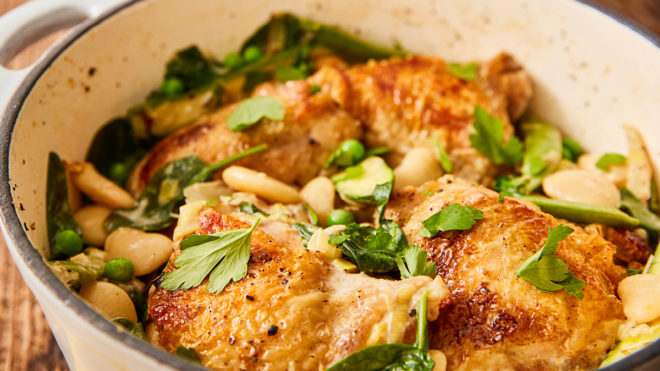 4 servings
50 mins to prepare
Ingredients
A drizzle of olive oil
8 chicken thighs
3 cloves of garlic, sliced
1 leek, sliced
1/2 bulb of fennel, sliced
50ml white wine (optional)
2 tbsp plain flour
450ml chicken stock
4 baby courgettes, sliced in half
50g sugar snap peas
50g frozen peas
400g tin butter beans, drained
100g crème fraîche
50g baby spinach leaves
Salt and pepper
5g flat leaf parsley, chopped
Instructions
METHOD
1 Heat a drizzle of olive oil in a large saucepan. Add the chicken thighs and cook for 5 minutes.  Turn the thighs over and cook for a further 5 minutes. Remove and set to one side.
2 Add the garlic, leek and fennel to the pan, sauté for 3 minutes.
3 Add the white wine and cook for 1 minute.
4 Add the flour, stir well and cook for 1 minute.
5 Add the chicken stock stir well and bring to a simmer.
6 Return the chicken thighs to the pan, cover and simmer for 10 minutes.
7 Remove the lid and simmer for a further 5 minutes.
8 Add the courgettes, sugar snap peas and frozen peas. Simmer for 5 minutes.
9 Add the butter beans, crème fraîche and spinach, cook for 2 minutes to warm through.
10 Season to taste and garnish with chopped flat leaf parsley.
CHEF'S TIP We have used butter beans in this recipe but these can be swapped for chickpeas or cannellini beans. Feel free to swap and change the spring vegetables you use in the dish, asparagus, broad beans and fine beans all work well as an alternative.