Meatball and Bean Soup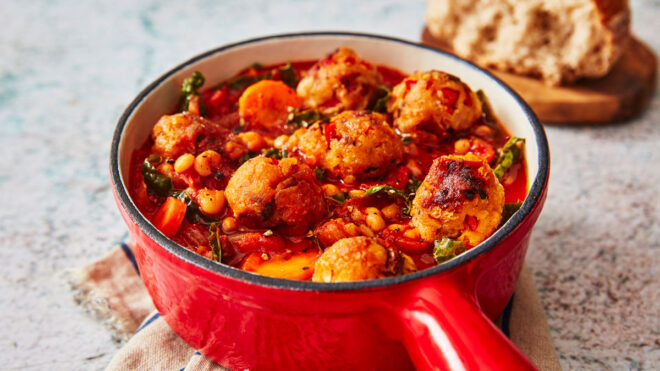 6 servings
Cook 35 minutes, 20 minutes to prepare
Ingredients
For The Soup
3tbsp olive oil
1 onion, finely chopped
2 cloves garlic, chopped
2 carrots, diced
400ml passata
1tbsp sun-dried tomato paste
700ml vegetable stock
400g can haricot beans
100g kale, shredded
For The Meatballs
250g pork mince
50g fresh breadcrumbs
2tbsp fresh parsley, finely chopped
1 egg yolk
To Serve
Grated parmesan
For the Vegetarian Meatball
150g mushrooms
1/2 can chickpeas, drained
1/2 onion, finely diced
1 clove garlic, grated
1/2 small red pepper, finely chopped
1 egg
1 tbsp oregano
1 tsp garlic powder
Juice of half a lemon
Handful of chopped parsley
2 tsp extra virgin olive oil
1/3 cup wholewheat breadcrumbs
Sea salt
Instructions
Heat 2 tablespoons of the oil in a large saucepan and gently cook the onion for about 5 minutes until beginning to soften. Stir in the garlic and carrots and cook for a further minute.
Stir in the passata, sun-dried tomato paste and vegetable stock and bring to a gentle simmer. Cook for 15 minutes.
At this stage, make your balls of choice.
Add the meatballs to the soup mix along with the haricot beans and cook for 10 minutes.
Stir in the shredded kale and cook for just 2 – 3 minutes. Serve ladled into warm soup bowls, with grated Parmesan or vegetarian Italian style hard cheese.
For the Meatballs:
Place the pork mince in a bowl with the breadcrumbs, parsley, egg yolk and a little seasoning then mix together well. Shape into small balls – the mixture will make about 32 balls.
Heat the remaining oil in a large frying pan and cook the meatballs until golden.
For The Vegetarian Meatball Option:
Add a drizzle of olive oil to a large skillet and sauté the onion with a pinch of sea salt until translucent. Add the chopped mushrooms, pepper, garlic powder and oregano and cook for 2-3 minutes.
Meanwhile put the chickpeas into a large bowl with the lemon juice and mash with a potato masher.
Add the mushroom mixture, breadcrumbs and egg to the mashed chickpeas, then mix together. If you want to make vegan meatballs, use the vegan egg substitute instead of the egg to bind the mixture.
Form the vegetarian meatballs with your hands, making them about the size of golf balls. Heat the olive oil in a frying pan on a medium heat. Place the  veggie balls into the pan and cook for 5-10 minutes or so, until nicely golden and piping hot throughout. Serve hot on top of the finished soup.
Chef's Tip: Wet your hands a little or put a tiny bit of olive oil on them to stop the mixture sticking as you form the balls.