Meatball and Bean Soup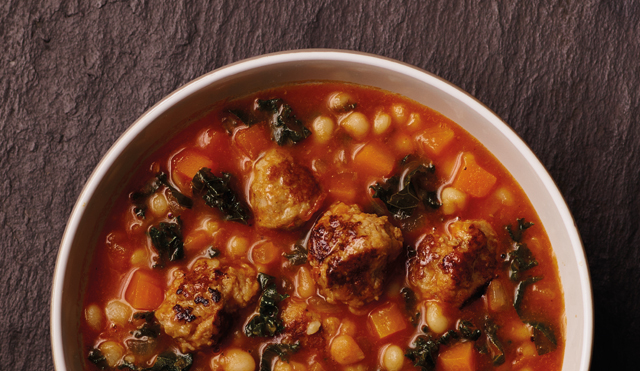 6 servings
Cook 35 minutes, 20 minutes to prepare
Ingredients
3tbsp olive oil
1 onion, finely chopped
2 cloves garlic, chopped
2 carrots, diced
400ml passata
1tbsp sun-dried tomato paste
700ml chicken stock
250g pork mince
50g fresh breadcrumbs
2tbsp fresh parsley, finely chopped
1 egg yolk
400g can haricot beans
100g kale, shredded
To Serve
Grated parmesan
Instructions
1 Heat 2 tablespoons of the oil in a large saucepan and gently cook the onion for about 5 minutes until beginning to soften. Stir in the garlic and carrots and cook for a further minute.
2 Stir in the passata, sun-dried tomato paste and chicken stock and bring to a gentle simmer. Cook for 15 minutes.
3 Meanwhile, place the pork mince in a bowl with the breadcrumbs, parsley, egg yolk and a little seasoning then mix together well. Shape into small balls – the mixture will make about 32 balls.
4 Heat the remaining oil in a large frying pan and cook the meatballs until golden.
5 Add the meatballs to the soup mix along with the haricot beans and cook for 10 minutes.
6 Stir in the shredded kale and cook for just 2 – 3 minutes. Serve ladled into warm soup bowls, with grated parmesan.