Winter Slaw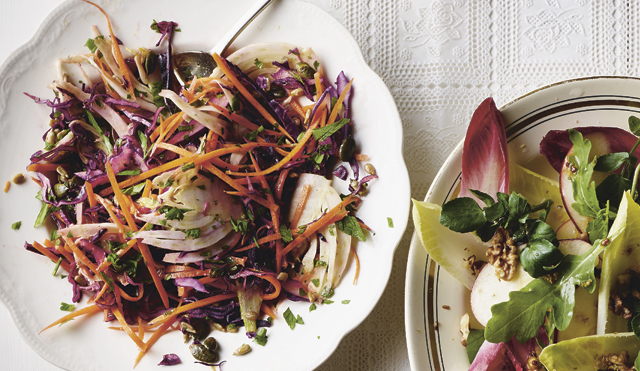 6 servings
15 minutes to prepare
Ingredients
1/2 red cabbage
1 fennel bulb
2 carrots
1 small red onion, halved and very thinly sliced
60g pumpkin seeds, toasted
60g sunflower seeds, toasted
2 lemons, juice of
1 heaped tsp Dijon mustard
3 tbsp olive oil
Salt and milled pepper
Handful of flat leaf parsley, roughly chopped
Instructions
1 Slice the red cabbage as thinly and finely as you can and place in a large bowl.
2 Halve the fennel bulb and remove the tough outer layer. Again, slice as thinly and finely as you can and add to the red cabbage.
3 Finely shred or grate the carrots, and add to the cabbage and fennel, toss together well with the red onion, pumpkin and sunflower seeds.
4 Place the lemon juice, mustard and olive oil in a bowl and mix together well with a good pinch of salt and plenty of milled black pepper. Pour over the vegetables and toss together well until all is combined. Check for seasoning then add the flat leaf parsley.