Summer Coleslaw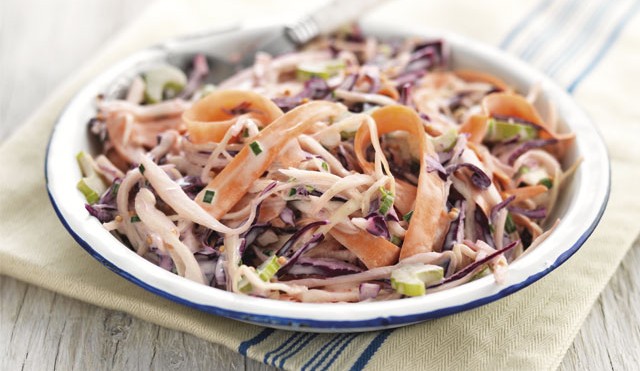 10 servings
25 minutes to prepare
Ingredients
1/2 medium white cabbage
1/2 small red cabbage
2 medium carrots
1 tbsp lemon juice
1 tsp caster sugar
1 tsp salt
5 tbsp mayonnaise
1 heaped tsp Dijon mustard
1 tsp mustard seeds
2 celery stalks, thinly sliced
5 spring onions, finely chopped
1 tbsp chopped chives
Salt and milled pepper
Instructions
HOW TO DO IT
Cut each of the half cabbages into half again, remove the core and any blemished outer leaves. Shred the cabbage as finely as possible.
Peel the carrots (discard outer peelings) and slice in half lengthways. Using a potato peeler, peel the carrots into long ribbons.
Place the cabbage and carrot into a colander and toss with the lemon juice, sugar, salt and milled pepper, leave for 30 minutes to marinate.
Meanwhile in a large mixing bowl add the mayonnaise, Dijon mustard, mustard seeds, celery, spring onions and chives and mix well.
Squeeze any excess water from the cabbage and carrot and mix into the mayonnaise. This will keep fresh in the fridge for 3-4 days.
Great served with our Spicy Barbecue Pork Ribs recipe and new season potatoes.