Smoked Haddock and Sweetcorn Chowder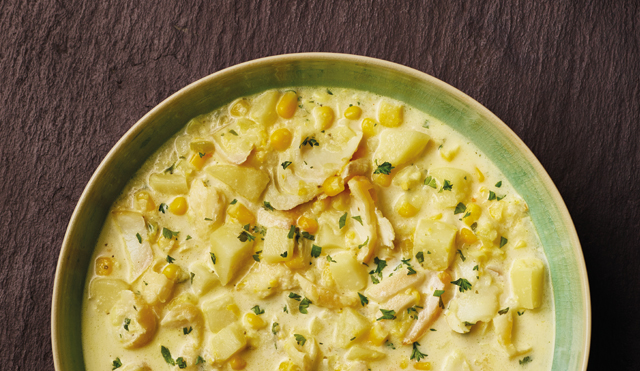 4 servings
Cook 35 minutes, 15 minutes to prepare
Ingredients
450g piece smoked haddock
400ml milk
Knob of butter
1 bunch spring onions, chopped
1 stick celery, chopped
1 large potato, peeled and diced
1 leek, chopped
600ml vegetable stock
150g frozen sweetcorn
Small bunch parsley, finely chopped
Instructions
1 Place the smoked haddock skin side up in a large frying pan and pour over the milk. Heat gently, not allowing the milk to boil, poaching the fish for about 5 – 7 minutes. Remove from the heat and set aside.
2 Heat the butter in a large saucepan, add the spring onions and cook for about 3 – 4 minutes until beginning to soften. Stir in the celery, potato and leek then cook for a further 3 minutes.
3 Add the vegetable stock and bring to a gentle simmer.
4 Strain the milk from the smoked haddock, set the fish aside and add the milk to the pan. Simmer for a further 15 – 20 minutes until the vegetables are very tender.
4 Remove the skin from the haddock and check for any bones. Flake the fish into chunky pieces.
5 Add the sweetcorn to the pan and heat through for a few minutes, then stir in the fish and parsley. Serve in warm bowls with ground black pepper.