Spiced Red Lentil and Bacon Soup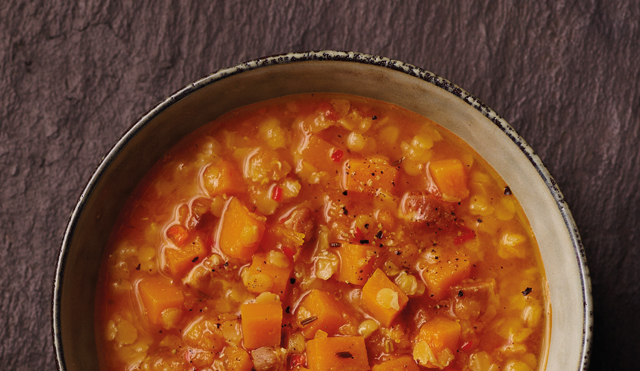 4 servings
Cook 30 minutes, 10 minutes to prepare
Ingredients
2tbsp olive oil
1 onion, finely chopped
70g smoked bacon lardons
Pinch dried chilli flakes OR
1 fresh chilli, finely chopped
1tsp cumin seeds
350g butternut squash, (peeled weight) diced
200g dried red lentils
400g can chopped tomatoes
1tsp runny honey
600ml vegetable stock
Instructions
1 Heat the olive oil in a large saucepan and cook the onion gently for 5 minutes until beginning to soften. Stir in the bacon lardons and cook for a further 3 – 4 minutes.
2 Add the chilli, cumin, squash and red lentils and toss together.
3 Add the chopped tomatoes, honey and stock then simmer for 20 minutes until very tender.
4 Serve chunky or place half in a food processor or blender, blend until smooth then return to the pan and mix through.