Herby Sausage and Butternut Squash Toad In The Hole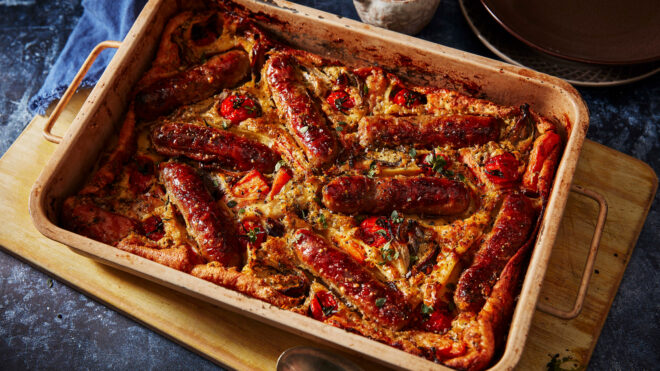 4 servings
30 minutes to prepare
Ingredients
3 eggs
125ml milk
125g flour
25ml vegetable oil
8 pork sausages
1 red onion, diced
1/4 butternut squash, peeled and diced
1tsp mixed herbs
2 sprigs rosemary
2 sprigs thyme
12 cherry tomatoes
Salt and pepper to taste
Instructions
Method:
1. Pre heat the oven to 200°c / 180°c Fan/ 375°F / Gas Mark 5.
2. Make the batter by whisking together the eggs, milk and flour until smooth. Pass through a sieve to remove any lumps and allow to sit while you prepare the vegetables.
3. Place the vegetable oil into a non-stick, deep sided 30cm oven dish and place in the oven for 2 minutes to get hot.
4. Carefully add the sausages, diced red onion, butternut squash, herbs, rosemary and thyme and bake in the oven for 5 minutes.
5. Add the cherry tomatoes and evenly spread out all the sausages and veg.
6. Pour over the batter and bake in the oven for 20-25 minutes until it has risen, it should be crispy at the edges and a golden brown colour.
7. Serve with buttered peas and a rich gravy of your choice.
Chef's Tip:
Make it veggie by swapping out the pork sausages for your favourite veggie variety.