Sausage, Chorizo & Langoustine Jambalaya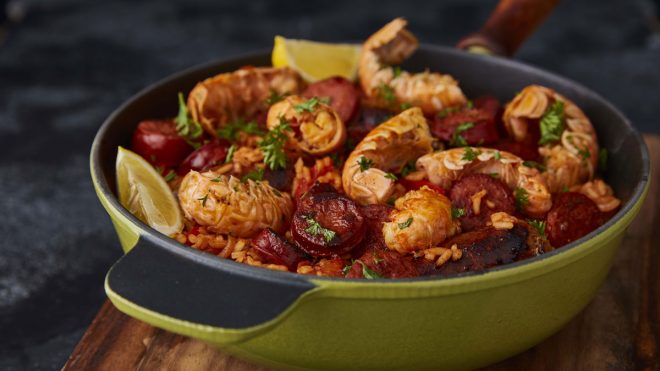 4 servings
35 minutes to cook, 10 minutes to prepare
Ingredients
6 pork and chilli sausages
Sunflower oil
1 onion
1 red pepper, chopped
2 garlic cloves, crushed
1tbsp sweet smoked paprika
250g easy cook long grain ric
400g tin chopped tomatoes with garlic & herbs
500ml chicken stock
4 smoked cooking chorizo
8 langoustine tails
2 lemons
Instructions
A hearty langoustine dish perfect for the colder nights.
Method
In a large, lidded deep frying pan, fry off the sausages until golden and cooked through, then remove them from the pan and set aside to keep warm.
Slice your chorizo into decent size slices and fry off gently, then remove them from the pan and set aside with the sausages to keep warm.
Chop the onion and fry until soft in the same pan you used for the sausage and chorizo – it will pick up the delicious flavours of both.
Add the pepper and garlic to the onion and cook for a couple of minutes.
 Stir in the rice, mixing everything thoroughly to coat every grain with flavour.
Add the tomatoes, then just enough stock to cover the rice. Bring to the boil then turn down as low as you can and pop on a lid. Cook for 10 minutes or so until the rice is tender. Check on it during the cooking time and add more stock if needed.
Whilst the rice is cooking, peel and shell the langoustine and set aside.
About 5 minutes before the end of cooking add the langoustine, replace the lid and cook through.
Before serving add the sausage back into the pan (sliced if preferred) and then the chorizo.
Taste and season then serve immediately with big wedges of lemon.
Chefs tip
If you prefer to leave the shell and tail on the langoustine then feel free. It will add a little more flavour and means your diners can roll their sleeves up and tuck in with their fingers!