Hungarian Lángos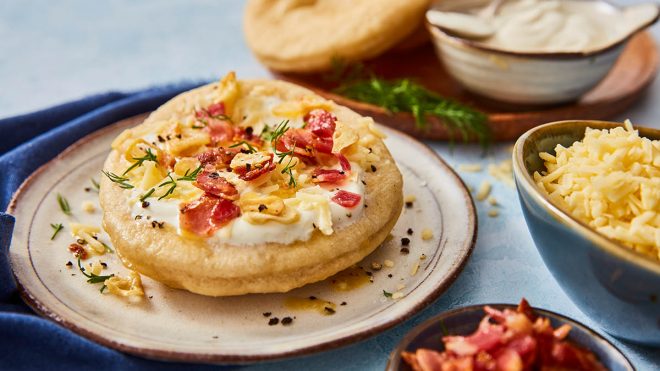 4 servings
90 mins to prepare
Ingredients
For the dough
350g plain flour
7g dried yeast
1/2 tsp salt
250ml warm water
100ml sunflower oil for frying
To garnish
1/2 pack Booths smoked streaky bacon, fried
50g grated Cheddar
A few garlic cloves, sliced and fried in butter
1 small tub of sour cream
Instructions
METHOD:
Combine the flour and yeast in a mixing bowl.
Mix the salt and warm water together in a jug and add to the flour
and yeast mix.
Mix to form a dough until it starts to leave the sides of the bowl.
Cover with a damp cloth and leave to double in size (about 1 hour).
Tip the rested dough onto a floured surface and gently roll out to 5mm thick.
Cut out 8 x 10cm discs and leave to rest for 30 minutes.
Heat some sunflower oil in a deep sided frying pan and fry both sides of the discs until golden.
Serve hot with crispy bacon sliced into small pieces, grated Cheddar, a few slices of fried garlic and a dollop of sour cream.
CHEF'S TIP Turn this into a dessert by topping the breads with icing sugar, whipped cream and a dollop of Nutella instead of the savoury garnishes.