Hot Cross Bun Loaf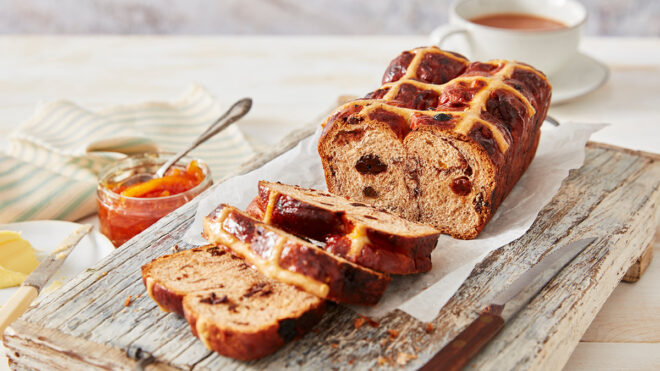 10 servings
20 mins to prepare
Ingredients
250g bread flour or strong plain flour
45g caster sugar
1/2 tbsp ground mixed spice
1/2 tsp ground cinnamon
Zest of 2 blood oranges
1/2 tsp salt
40g butter
125ml milk
7g fast-acting dried yeast
1 medium free-range egg, beaten
50g sultanas
50g chopped mixed peel
50g chopped dark chocolate chips
Sunflower oil for greasing
For the Cross
50g flour
60g water
For the Glaze
25g blood orange marmalade
Juice of 1 blood orange
Instructions
You will need a 1kg loaf tin.
METHOD:
1. Preheat the oven to 180°C/ 160°C Fan/ 350°F/ Gas Mark 4.
2. Mix the flour, sugar, spices, orange zest and salt in a large mixing bowl.
3. Gently warm the milk and butter in a pan until it's lukewarm and whisk in the yeast.
4. Add this to the flour mixture and mix well.
5. Add the beaten egg and bring the mixture together into a smooth dough.
6. Dust with a little flour then tip the dough onto a well-floured surface and knead the sultanas, mixed peel and chocolate chips into the dough.
7. Continue to knead for 5 minutes until smooth and silky.
8. Place the dough into a lightly oiled bowl and cover with a damp tea towel to prove, keep in a warm area for 1 hour or until the dough has doubled in size.
9. Turn the dough out on to a floured surface and divide it into 8 pieces and roll each piece into a ball.
10. Butter a 1kg loaf tin and place the balls into the tin creating two rows of four. Cover with a damp cloth and prove again for 1 hour in a warm place.
11. The dough will now have risen to the top of the tin.
12. For the famous cross: Mix the flour and water together and place into a piping bag. Pipe a cross on top of each ball and bake the loaf in the oven for 25-30 minutes.
13. Once the loaf is cool enough to handle, tip out onto a cool-ing rack cross side up.
14. Place the blood orange marmalade and orange juice into a pan and bring to the boil, then use this mixture to lightly glaze the top of the loaf.
CHEF'S TIP:
Delicious when dipped in egg and fried in butter, serve with yo-ghurt and fruit for amazing twist on French toast.