Mexican Mole Chilli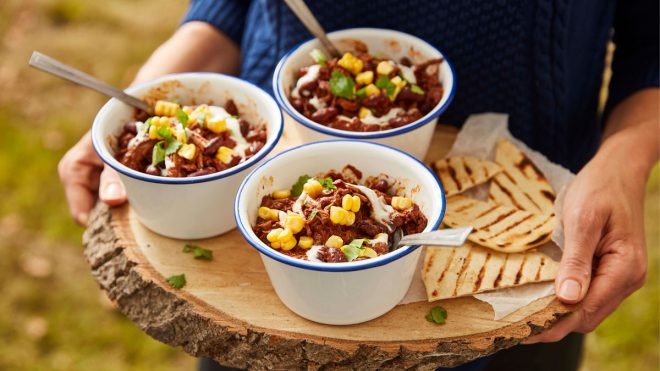 4 servings
3.5 hours to prepare
Ingredients
2tbsp olive oil
1kg beef brisket
1 onion
2 garlic cloves
1 red chilli, sliced
1tbsp chilli powder
1tbsp plain flour
1tsp coriander
1tsp cinnamon
100g tomato puree
400g chopped tomatoes
2tbsp chipotle paste
1ltr beef stock
400g kidney beans
50g Booths 75% cocoa dark chocolate
To Serve
1 sweetcorn cob, blanched
Coriander leaves
4tbsp yoghurt
Instructions
This slow cooked Mexican chilli is a delicious warming one pot dish.
Method:
Pre-heat the oven to 180°C (fan) / 400°F / gas mark 6. Heat one tablespoon of oil in a large oven-proof casserole dish over a medium heat. Brown the beef for 5 minutes each side, then remove.

 

Add the rest of the oil to the casserole dish. Add the diced onion and sauté for 5 minutes.
Add the garlic and chilli, cook for 1 minute. Then add the spices and flour, cook for a further minute.
Add the tomato puree, chopped tomatoes, chipotle paste and beef stock. Bring to the boil and return the browned beef to the pan.

 

Reduce to a simmer, place a lid on the casserole dish and cook in a pre-heated oven for 3 hours.
Once cooked, shred the beef into the sauce. Add the kidney beans and chopped chocolate and warm over a medium heat.
Serve with blanched sweetcorn kernels, coriander leaves and a dollop of yoghurt.
Chefs Tip
If you want to make this into a speedy mid-week supper, swap the beef brisket for minced beef and reduce the cooking time to 1 hour.
Wine Match – Cattle Baron Zinfandel
Bursting with juicy flavours of ripe berries and hints of spice, we've paired this bold Zinfandel with our Mexican Mole recipe. Zinfandels lean toward the sweeter side of red wines so pair well with spicy or smoky foods. Find it in the USA reds section.