Steak Ramen Bowl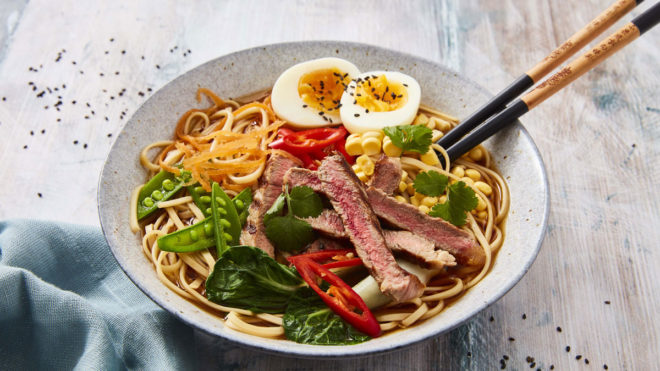 4 servings
23 minutes to prepare
Ingredients
200g miso paste
1 red chilli, sliced
1 inch piece ginger, sliced
200g dried egg noodles
1 corn on the cob
1 carrot
100g pak choi, halved
75g sugar snap peas, halved
4 eggs
300g sirloin steak
Drizzle olive oil
1tsp nigella seeds
Coriander leaves
Instructions
This seriously succulent steak ramen bowl is absolutely delicious as a family winter warmer.
Place 2 litres of water into a large saucepan. Add the miso paste, chilli and ginger and bring to the boil. Add the egg noodles and boil for 5 minutes.
Remove the kernels from the sweetcorn and spiralize the carrot (alternatively slice into thin matchsticks).
Add the sweetcorn kernels, carrot, pak choi and sugar snap peas to the pan. Cover with a lid and boil for 1 minute. Remove the pan from the heat, leaving the lid on.
Place the eggs into a saucepan of cold water, bring to the boil for 4 minutes. Then submerge the eggs in cold water and set to one side.
Drizzle the sirloin steak with a little olive oil. Heat a griddle pan over a high heat, cook the steak for 2-3 minutes on each side. Remove and set aside to rest.
To serve, peel the eggs and slice in half. Divide the noodles and cooking liquid equally between 4 bowls. Spoon the vegetables into each bowl. Slice the sirloin steak into thin strips and add to the bowls. Finish with 2 halves of egg and garnish with Nigella seeds and coriander leaves.
Chef's Tip
This is a great Monday dish using up leftovers from a Sunday roast. Swap the sirloin for torn roast pork, chicken or even lamb.