Chicken & Celeriac Shawarma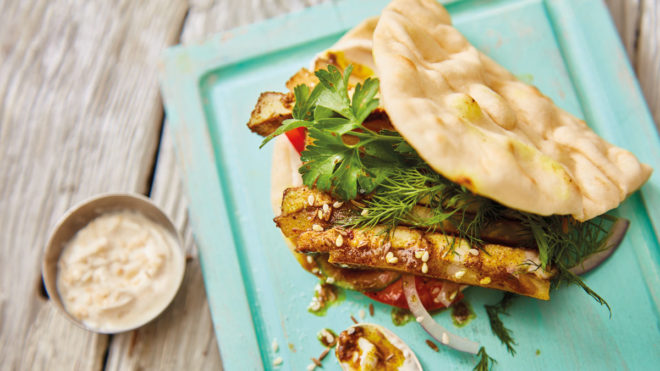 4 servings
50 mins to prepare
Ingredients
100g butter
1 garlic clove, crushed
1 celeriac
4 chicken fillets
2 flatbreads
For the spice mix
1 tbsp salt
1 tbsp allspice
1 tbsp turmeric
1 tbsp ground pepper
1 tbsp mixed herbs
1/2 tbsp chilli flakes
1 tbsp ground cinnamon
1 tsp ground cloves
1 tbsp ground nutmeg
1 tbsp ground cumin
For the yoghurt sauce
1 tbsp tahini
1 lemon, juiced
1 tbsp natural yoghurt
For the salad
1 tomato
1 red onion
1/2 cucumber
A handful of parsley
A drizzle of olive oil
Lemon juice
Instructions
METHOD
1 Pre heat the oven to 220°C / 200°C Fan /Gas Mark 7.
2 Melt the butter and add the crushed garlic.
3 Peel and slice the celeriac ½ cm thick and blanch in salted boiling water for 4 minutes until tender.
4 Place the thigh fillets one at a time between cling film and flatten with a rolling pin.
5 Brush the inside of a loaf tin or small baking tray with some of the melted butter and a sprinkle of spice mix.
6 Layer with celeriac, some melted butter and a sprinkle of spice. Then add 2 chicken thigh fillets, brush with more butter and spice mix.
7 Repeat until all of the chicken and celeriac has been used and press in the tin until nice and tight. Bake in the hot oven for 20 minutes.
8 Whilst the chicken is baking, mix together the tahini, lemon juice and natural yoghurt.
9 For the salad slice the tomato, red onion and cucumber and sprinkle with a little salt, a squeeze of lemon and a drizzle of olive oil, then add a large handful of chopped parsley.
10 Tip out the loaf tin onto a baking tray and bake for a further 10 minutes until the outside is caramelised.
11 Serve with the salad in a folded flat bread with the yoghurt sauce.
CHEF'S TIP For a veggie alternative, swap the chicken with slices of red pepper and aubergine.