Hot and Sour Turkey Noodle Broth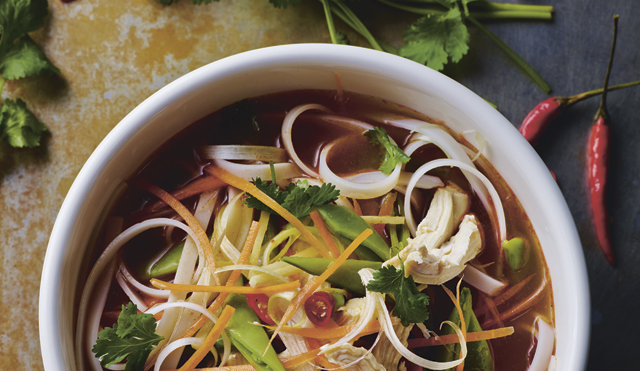 4 servings
Cook 25 minutes, 5 minutes to prepare
Ingredients
1 litre fresh well flavoured turkey stock
5cm piece of fresh ginger, sliced
1 lemongrass, bruised
2 red chillies, halved
3 garlic cloves, crushed
1 tbsp tom yum paste
250g wide rice noodles
1 carrot, cut into thin sticks
1 bunch spring onions, sliced thinly
200g sugar snap peas, mangetout or pak choi, quartered
500g (approx) cooked turkey (leftover) shredded
25g bunch fresh coriander
1 tbsp light soy sauce
1 lime, cut into wedges
Instructions
1 Pour the stock into a saucepan and add the ginger, lemongrass, 1 chilli and crushed garlic. Bring to a gentle simmer and cook for 15–20 minutes then add the tom yum paste, stir through and simmer for a further 5 minutes until the stock is well flavoured and fragrant.
2 Meanwhile, place the noodles in a large bowl. Pour over boiling water to cover and leave to soak for 15 minutes.
3 Remove the ginger, lemongrass, chilli and garlic with a slotted spoon from the stock. Add the carrot, spring onion and sugar snap peas, mange tout or pak choi and simmer for just 2–3 minutes then add the turkey, coriander and season with the soy sauce.
4 Drain the noodles and divide between serving bowls then ladle over the stock, vegetables and turkey. Serve topped with extra sliced chilli, coriander and a wedge of lime.