Pumpkin Spice Caramel Dip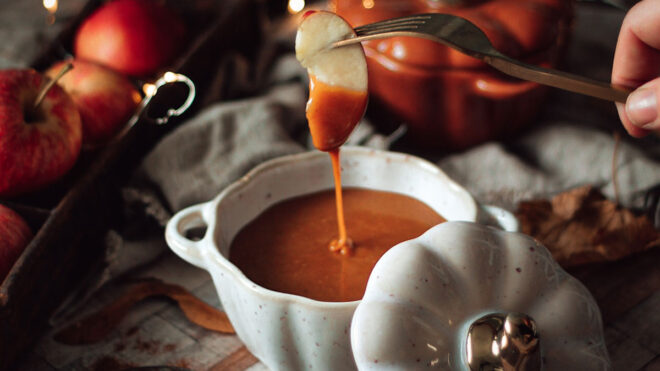 5 servings
5 mins to prepare
Ingredients
200g Granulated sugar
70g Unsalted butter
120ml Double cream
1tsp Ground cinnamon
1tsp Ground ginger
1/4 tsp Ground nutmeg
1/4 tsp Ground cloves
1/4 tsp Salt
Instructions
Method:
1) Weigh out your ingredients in preparation and keep them close to the stove.
2) Tip the sugar into a pan over a medium heat and stir continuously. The sugar will discolour and go clumpy before melting down into a smooth, amber liquid.
3) When the sugar has fully melted, stir in the butter. Stir until fully combined.
4) Stir in the double cream and boil for 1 minute.
5) Remove the pan from the heat and stir in the salt and spices. Transfer to a ramekin and use as a tip, or dispense into a jar and keep refrigerated for up to two weeks.
Cook time: 5 minutes
Yield: one jar