Thai-Style Mussels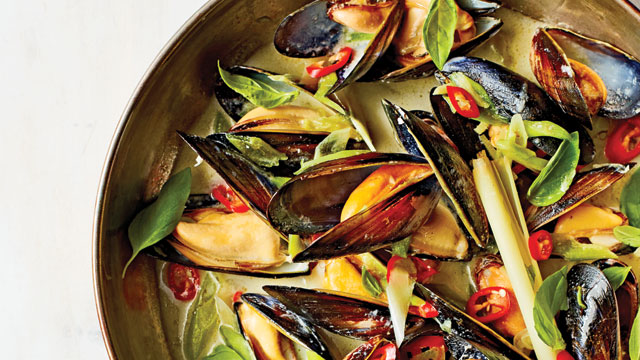 2 servings
30 minutes to prepare
Ingredients
1kg mussels
1 tbsp sunflower oil
A bunch of spring onions, finely chopped
2 garlic cloves, finely chopped
2.5cm piece of fresh ginger, finely chopped
1 lemongrass stick, crushed
1 red chilli, finely sliced
A splash of Thai fish sauce
160g coconut milk
To serve a bunch of fresh basil, 1 lime, cut into wedges
Instructions
Preparation time 10 minutes
Cooking time 20 minutes
1. Check the mussels are closed. If any are open, tap them gently: if they don't close, discard them. Wash and 'debeard' them, pulling away the tendrils on the sides.
2. Heat the sunflower oil in a large saucepan and add the spring onions, garlic, ginger, lemongrass and chilli, and cook gently for 5 minutes. Tip in the mussels and toss together well. Cover with a lid and cook for 10 minutes. Discard any mussels that don't open.
3. Add the fish sauce and coconut milk and heat through for a few minutes.
4. Serve the mussels scattered with the basil leaves, and lime wedges for squeezing.