Crispy Duck Tacos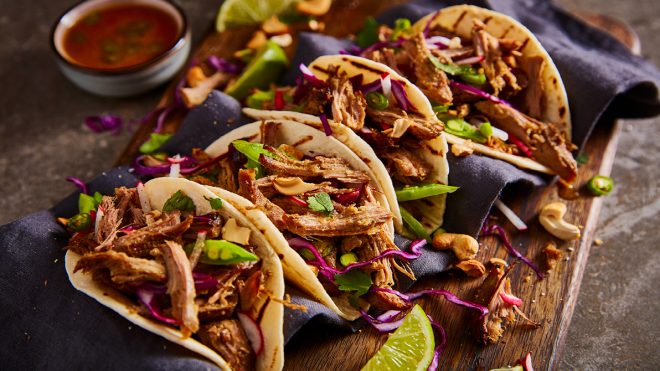 2 servings
30 mins to prepare
Ingredients
2 duck breasts, skin removed
1 red onion finely sliced
For the salad
4 radishes cut into matchsticks
8 sugar snap peas diagonally sliced
Handful of shredded red cabbage
Handful of chopped coriander
For the dressing
1 tbsp olive oil
Juice of 1 lime
Splash of soy sauce
1 chilli, finely sliced
1 garlic clove crushed
To serve
4 tortilla breads lightly griddled
Instructions
METHOD:
Preheat the oven to 200°c / 180°c fan / 400°f / gas mark 6.
Place the duck breasts onto a tray with the onion and roast in the oven for 30 minutes.
Mix the oil, lime juice, soy sauce, chilli and garlic together to make the dressing and set aside.
Reserving some chopped chilli and coriander to use as a garnish, place the salad veggies into a bowl, mix with most of the dressing and season to taste.
Shred the duck using two forks.
Take a warm tortilla, fill with the salad, top with duck then serve with an extra drizzle of the reserved dressing, and a sprinkle of the remaining chopped chilli and coriander to garnish.
CHEF'S TIP:
For a vegan friendly recipe why not try jack fruit — it has the same texture and tastes just as delicious.