Salmon & Kale Stuffed Conchiglie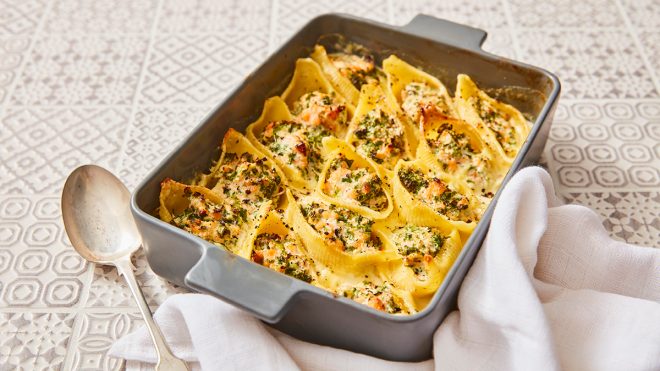 4 servings
20 mins to prepare
Ingredients
200g large conchiglie pasta shells
100g kale
300g fresh salmon, skin removed and diced
100g ricotta
1 lemon
A drizzle of olive oil
1 shallot, diced
2 garlic cloves, crushed
50ml white wine
350ml whipping cream
150ml vegetable stock
Salt and pepper
Instructions
METHOD:
Bring a large pan of salted water to the boil, add the conchiglie pasta and cook for 10 minutes or until tender. Drain, rinse under cold water and set to one side.
Remove the tough rib from the kale and discard. Place the kale leaves into a bowl, cover with boiling water and leave for 10 minutes.
Place the salmon, ricotta and zest from one lemon into the bowl of a food processor. Drain the kale, pat dry and add to the processor. Pulse to combine, don't over mix (if you don't have a food processor finely chop the salmon and kale then mix with the ricotta and lemon zest). Set to one side.
To make the sauce, heat a drizzle of oil in an oven proof frying pan. Add the shallot and sauté for 3 minutes.
Add the garlic and sauté for 2 minutes.
Add the white wine and cook for 1 minute.
Add the cream, vegetable stock and juice from half a lemon. Bring to the boil then remove from the heat. Season to taste.
Spoon the prepared salmon and kale filling into the cooked conchiglie sheels and arrange in the frying pan on top of the sauce.
Pre-heat the oven to 180°C (fan)/200°C/400°F/gas mark 6
Bake for 20 minutes.
CHEF'S TIP:
If you don't have an oven proof frying pan, pour the cooked sauce into an oven proof dish, place the filled conchiglie shells on top and bake. Swap the kale for spinach when in season.