Pea & Parmesan Risotto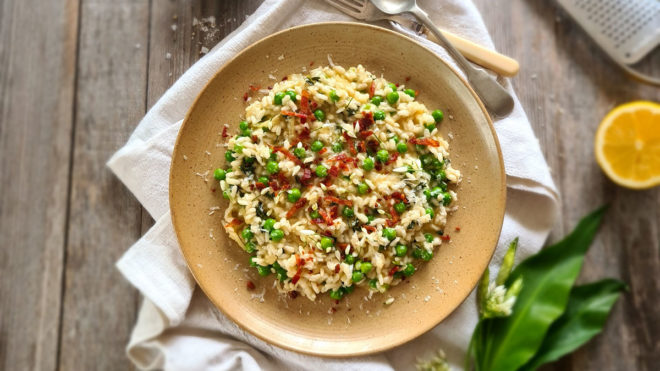 4 servings
15 mins to prepare
Ingredients
2 tbsp extra virgin olive oil
2 large shallots (sliced)
2 cloves of crushed garlic
1 bay leaf
Sprig of fresh thyme
50ml olive oil
100g Arborio rice
80g frozen peas (defrosted)
800ml veg or chicken stock
50g butter
8 rashers of streaky smoked bacon
25g Parmesan cheese
Sea salt and pepper to taste
Instructions
METHOD
1. Sauté the thinly sliced shallot, garlic, thyme and bay leaf in the olive oil until soft.
2. Add the rice and coat with the shallot mix until the rice is translucent at the edges.
3. Add the stock one ladle at a time, stirring continuously after adding each ladleful until all of the liquid is absorbed, before adding the next one. This will take about 10/12 mins.
4. Remove off the heat and add the peas, butter and grated Parmesan and continue to stir until the peas are hot and the butter has melted through the risotto. Discard the sprig of thyme and bay leaf.
5. Cook the smoked bacon until crispy and keep warm
6. Serve the risotto and top some freshly grated Parmesan, the crispy bacon and a drizzle of olive oil.
CHEFS TIP
Cool any let over risotto mix and roll into small balls (about 25g), roll in breadcrumbs then fry in butter until golden brown for delicious Arancini bites.