Easy Tomato Pasta Bake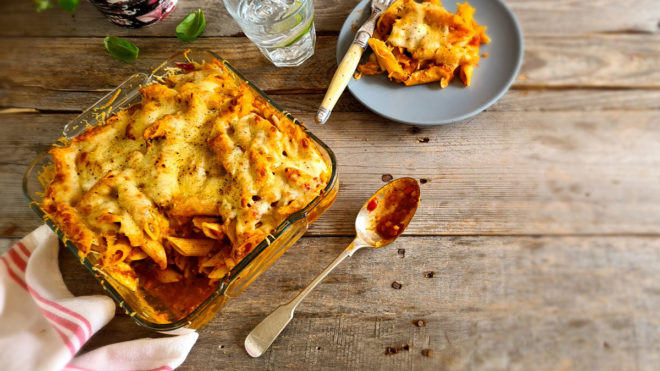 4 servings
20 mins to prepare
Ingredients
200g penne pasta (any small pasta will do)
1 tbsp vegetable oil
1 finely diced red onion
1 crushed clove of garlic
1 finely diced carrot
1 finely diced courgette
1 400g tin chopped tomatoes
1/2 tbsp balsamic vinegar
1 tbsp pesto
50g grated mozzarella
Salt and pepper to taste
Instructions
METHOD
1. Dice all the vegetables very small (like grains of rice). If you can't cut them small enough grate them instead.
2. Place the veg, garlic and olive oil in a saucepan and gently cook until soft.
3. Add the sugar and balsamic vinegar and stir.
4. Add the chopped tomatoes and simmer for 5 mins.
5. Remove from the heat and add the pesto.
6. Place your cooked pasta in a baking dish and top with the tomato and veg sauce.
7. Sprinkle with mozzarella and bake for 15 mins at 180°C
8.Serve with garlic bread and a nice crisp salad.
CHEFS TIP
Add some chopped left over bacon and sausages for a nice Sunday brunch!