Korean Pulled Chicken Nachos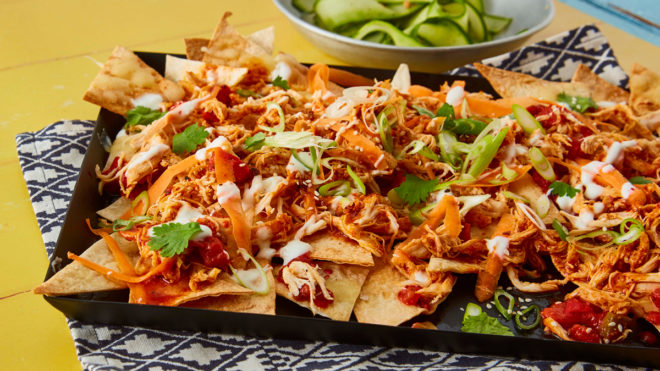 2 servings
25 mins to prepare
Ingredients
4 chicken breasts
8g sesame seeds
1 tsp ginger purée
1 tsp garlic purée
3 tbsp soy sauce
1/2 tsp chilli flakes
2 tbsp honey
2 tbsp sesame oil
2 tbsp Sriracha sauce
1/4 tsp cracked black pepper
1/4 tsp sea salt
125ml chicken stock
4 soft tortillas
150g mozzarella grated cheese
Instructions
METHOD
1. Preheat the oven to 200ºC. Place chicken breasts into an ovenproof dish. Add the sesame seeds, ginger purée, garlic purée, soy sauce, honey, chilli flakes, sesame oil, Sriracha sauce, sea salt and pepper. Mix to coat the chicken evenly.
2. Pour the chicken stock on top of the marinaded chicken. Cook for 8-10 minutes before covering with foil to create a tight seal. Return to the oven and reduce the heat to 150ºC, for 2hrs.
3. Brush the tortillas both sides with oil and cut into triangles. Lay evenly on greaseproof paper, bake until they start gaining colour (as they will be baked again just before serving).
4. Shred the cooked chicken with two forks in a bowl. Pour in the remaining juices from the oven dish and combine.
5. Tip the tortilla chips on to a greaseproof lined baking tray, scatter over the pulled chicken and then top with a layer of mozzarella cheese.
6. Bake for 7-8  minutes until the cheese is melted and the tortilla chips have started
to brown.
7. Remove from oven. Garnish with salsa, slices of spring onion, carrot ribbons and fresh coriander. Finish by drizzling fresh plain yoghurt across the top.