Parma Ham, Pesto & Mozzarella Tear & Share Bread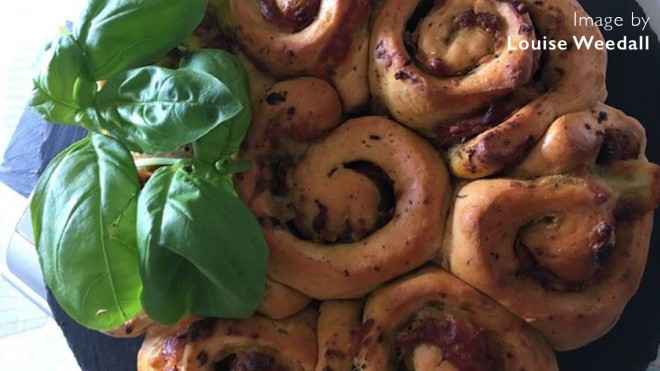 8 servings
30-35 minutes to cook, 30 minutes to prove, 20 minutes to prepare
Ingredients
1x500g pack Wright's Parmesan & Sundried Tomato Bread Mix,or flavour of your choice
Drizzle olive oil
2tbsp pesto
75g Parma Ham, torn
125g mozzarella, torn
Instructions
A super simple tear and share bread, elevating and making good use of a packet mix…shh, they'll never know!
Method
Pre-heat the oven to 200°C (fan)/425°F/gas mark 7.
Make up the bread mix according to the pack instructions up to and including stage 2.
Lightly grease a 23cm loose bottomed cake tin with a drizzle of olive oil.
Lightly flour a work surface and roll the prepared dough into a rectangle approximately 25x35cm.
Spread the pesto evenly onto the dough. Top with the torn Parma ham and mozzarella.
Starting with the longest side roll the dough tightly (like a Swiss roll). Trim approximately 1cm from each end and discard.
Cut the roll into 8 evenly sized pieces. Place one piece of dough, cut side up into the centre of the prepared cake tin. Arrange the remaining pieces around the outside.
Cover the cake tin with cling film and allow to prove for 30 minutes in a warm place.
Remove the cling film and bake in a pre-heated oven for 30-35 minutes or until golden brown.
Allow the bread to cool slightly before removing from the tin and placing on a cooling rack to cool completely.
Tear and share the individual rolls, perfect for picnics, soups and stews.