Crab Arancini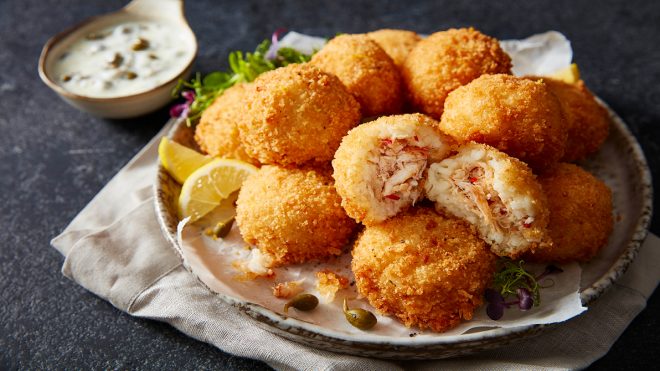 16 servings
35 mins to prepare
Ingredients
50g butter
1 onion finely diced
250g Arborio rice
150ml dry white wine
500ml veg stock
200g crabmeat
50g grated Parmesan
Zest and juice of two lemons
1 red chilli finely diced
1 garlic clove finely diced
Handful of chopped chives
200g grated mozzarella
Salt and pepper
180g breadcrumbs
Instructions
METHOD:
Sauté the onion with the butter, then add the rice. Add the wine and stock and until the liquid is absorbed then leave to cool.
When ready to assemble the arancini, preheat a deep fat fryer to 200°C.
Mix the crabmeat, Parmesan, zest and juice of 2 lemons, chilli, garlic, chives and mazzarella together and season to taste.
Take a teaspoon full of crab mixture and roll into a ball.
Take a spoonful of rice and flatten in one hand, then encase the crabmeat ball with it. Squeeze tightly into a firm ball.
Coat in breadcrumbs, then deep fry for 5 minutes.
CHEF'S TIP:
The arancini will float in the oil when they're ready.