The Boho Baker's Gingerbread Wreath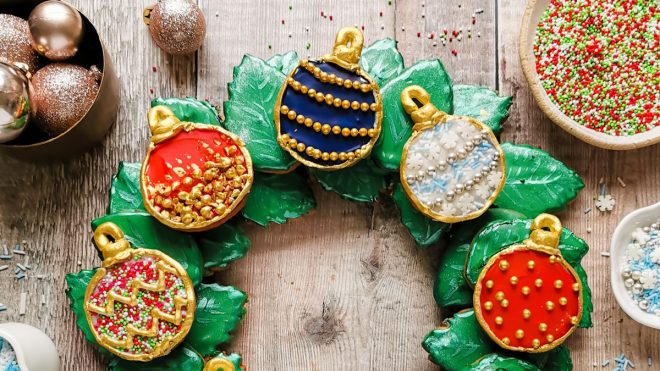 8 servings
45 mins to prepare
Ingredients
For the gingerbread
300g plain flour
1 tsp bicarbonate of soda
125g unsalted butter
100g dark brown sugar
3 tbsp golden sugar
1 tbsp ground ginger
For the decoration
2 medium egg whites
500g-600g icing sugar
20g ready to roll icing
Food colouring
Christmas sprinkles
Edible lustres/glitters if you wish
Instructions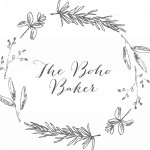 The Boho Baker describes herself as "Baker. Writer. Forager. Wanderer. Organic ingredient and edible floral Enthusiast. Member of the Guild of Food Writers." Very local to our HQ in Preston, she's kindly agreed to do a series of recipes for us, celebrating the best of our local produce. Follow her on Instagram @thebohobaker
1) Preheat the oven to 220°C/200°C (fan), gas mark 7. Cut 3 sheets of baking paper to fit your baking tray.
2) Gently heat the butter, brown sugar, and golden syrup until melted. Transfer the liquid into a bowl and add add the flour, ginger, and bicarbonate of soda. Stir to form a soft dough.
3) Roll the dough to the thickness of a pound coin. Place a dinner place on top of the dough and cut around the edges. Cut around a smaller plate in the centre, removing the circle of dough from the middle to form your wreath base. Bake in the oven for 10-12 minutes.
4) Re-roll the dough and cut out 35-45 leaf shapes and 7-8 circles. Use the remaining dough to make a bow shape. Bake in the oven for 5-10 minutes. Leave to cool.
5) Whisk the egg whites until firm peaks form. Fold in the icing sugar 200g at a time until the icing is thick but spreadable. If you take the icing too far, add a spoon of water to loosen.
6) Transfer half of the icing to another bowl and stir in some green food colouring. Dip the leaves into the icing and leave to set.
7) Divide the icing between several other bowls and stir in various food colourings. Dip the baubles and bow, adding sprinkles at this point if you wish.
8) Use the ready to roll icing to make the hanging loops for the baubles. Attach with a little of the icing, using the left over colours to decorate the baubles.
9) Use the remaining green icing to stick the leaves, baubles, and bow to the wreath base. If you want to go a step further, dip a paint brush in green food colouring and paint the veins on the leaves.
10) Paint/decorate the baubles with any edible lustres, glitters, or food colouring. Enjoy within 5 days.