The Boho Baker's Strawberries & Cream Swiss Roll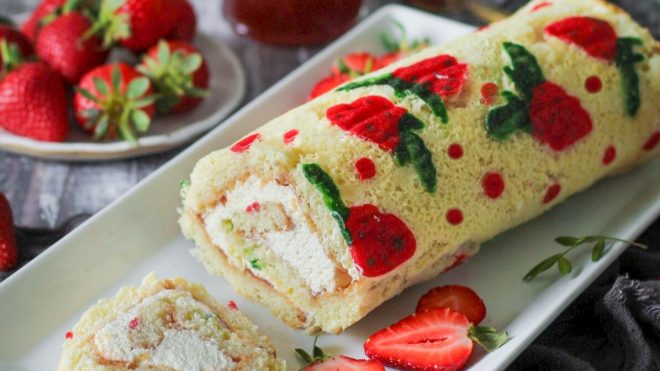 8 servings
20 mins to prepare
Ingredients
For the pattern
20g caster sugar
20g butter
30g plain flour
1 egg white
Red and green food colouring
For the sponge
90g caster sugar
90g plain flour
3 eggs
1 tsp vanilla extract
For the filling
5 tbsp strawberry jam
250ml whipping/double cream
1 tbsp icing sugar
Instructions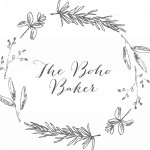 The Boho Baker describes herself as "Baker. Writer. Forager. Wanderer. Organic ingredient and edible floral Enthusiast. Member of the Guild of Food Writers." Very local to our HQ in Preston, she's kindly agreed to do a series of recipes for us, celebrating the best of our local produce. Follow her on Instagram @thebohobaker
METHOD
Preheat the oven to 200°C/180°C/gas mark 6. Line a 20cm x 30cm (or thereabouts) baking tray with a sheet of baking paper.
Make the pattern mix by whisking together the caster sugar, butter, flour, and egg white. Colour half the mixture with red colouring and the other half with green.
Transfer the coloured batters to piping bags and pipe the strawberry pattern on the lined baking sheet. Bake in the oven for 1 minute.
Whisk together the caster sugar and eggs for 8-10 minutes, or until the mixture has at least tripled in volume and is thick and fluffy. Fold in the flour and vanilla extract.
Spread the batter over the baked pattern and bake in the oven for 12 minutes.
As soon as the cake comes out of the oven, turn it out onto a sheet of greaseproof paper. Gently roll the cake into a cylinder and leave to cool in the paper for one hour.
Whisk the cream and icing sugar until thick and glossy. Unroll the sponge, spread the jam and cream, and gently roll back up. Keep refrigerated and enjoy within 2 days.