Quick 'Sourdough Style' Loaf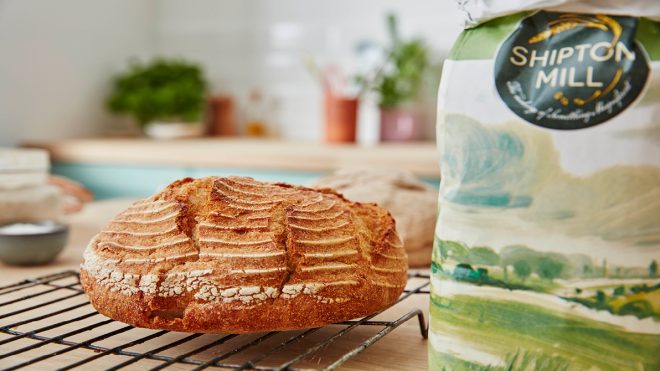 1 servings
24 hours to prepare
Ingredients
For the loaf starter
100ml water
100g plain flour
1 tsp dried yeast
For the dough
250g water
400g strong bread flour
1 tbsp salt
1 tsp sugar
1 tsp yeast
Instructions
METHOD
Mix all the loaf starter ingredients together and leave in the fridge for 24 hours.
For the dough, add the water to a mixing bowl followed by the loaf starter, then add the flour, salt, sugar and yeast.
Mix on the lowest speed for three minutes and then place your dough in round loaf basket that's been dusted with flour. Cover with clingfilm and leave to prove and rest for three hours.
Place a baking tray in the middle of the oven and small ovenproof bowl at the bottom of the oven, pre-heat to 230°C.
Turn the dough art onto parchment paper and carefully score the top of the dough with a sharp knife.
Carefully place the dough onto the hot oven tray.
Add a ladle of water to the bowl in the bottom of the oven and close the door (this will produce steam and help give the bread the perfect crust).
Bake for 5 minutes with the steam, then carefully open the oven door to vent and allow steam to escape. Then close the door and bake for a further 25 minutes, rotate as necessary to ensure even colouring.
Remove from the oven and allow to cool before slicing.
CHEF'S TIP Try exchanging 50g strong bread flour for 50g rye flour to give a nice subtle change in flavour.