Nectarine Galette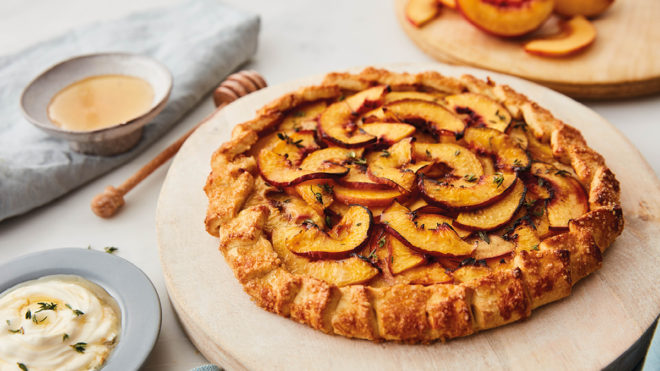 4 servings
55 mins to prepare
Ingredients
For the Galette
200g plain flour
25g caster sugar
1/4 tsp salt
100g butter, chilled and cubed
1 egg
5 nectarines, stoned and thinly sliced
75g demerara sugar
2 tsp cornflour
1 tsp vanilla extract
1 tsp fresh thyme leaves
A little flour to dust
1 egg beaten
1 tbsp demerara sugar
For the Honey and Thyme Cream
200g mascarpone
2 tbsp honey
2 tsp fresh thyme leaves
Instructions
METHOD
1 To make the galette pastry, place the flour, caster sugar and salt into a bowl. Stir to combine.
2 Add the chilled butter and rub into the flour using your fingertips until the mix resembles fine bread crumbs.
3 Add one egg and stir to combine using a fork. Use your hands to bring the mix together and roll into a ball. Wrap and chill in the fridge for 1 hour.
4 Meanwhile, mix the sliced nectarines, demerara sugar, cornflour, vanilla and thyme in a bowl.
5 Pre-heat the oven to 180°C (fan) / 200°C / 400°F / gas mark 6.
6 Once the pastry has chilled, lightly dust a work surface with flour and roll the pastry into a circle approximately the thickness of a pound coin. Place the pastry circle on a baking tray lined with baking paper. Spoon the nectarine mix onto the pastry circle leaving a 1.5 inch border around the edge.
7 Fold the border edge slightly over the fruit filling, pushing down gently to seal.
8 Brush the pastry edge with the beaten egg and scatter over the demerara sugar.
9 Bake in a pre-heated oven for 35 minutes or until the pastry is golden brown.
10 To make the honey and thyme cream, place all of the ingredients into a bowl and stir well.
11 Serve the galette warm with a generous dollop of honey and thyme cream.