Paprika Beef and Beetroot Goulash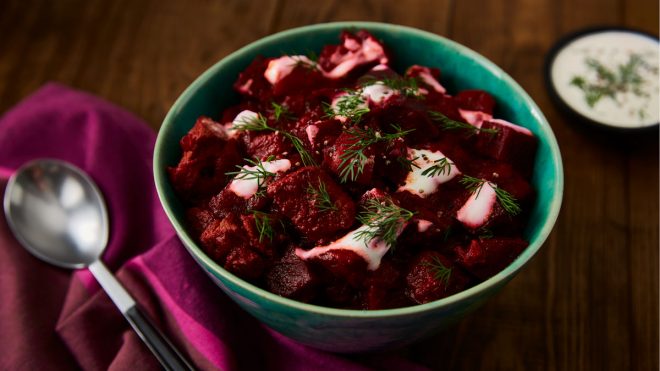 4 servings
Cook 60 minutes, 20 minutes to prepare
Ingredients
2tbsp olive oil
500g braising steak, cut into 1cm dice
1 onion, chopped
3 cloves garlic, chopped
1tsp caraway seeds
2tsp smoked paprika
1tsp cayenne pepper
250g beetroot, peeled and cut into 1cm dice
1 red pepper, diced
1tbsp tomato puree
400g can chopped tomatoes
600ml beef stock
To Serve
4tsp soured cream
2tbsp fresh dill, chopped
Instructions
1 Heat the oil in a heavy based casserole dish or pan. Add half the beef and brown all over for just a few minutes. Remove with a slotted spoon, set aside and repeat with the remaining beef.
2 Add the onion to the pan and cook for 3 minutes. Then add the garlic and spices and toss together for 1 minute.
3 Add the beetroot, pepper and tomato puree and cook for 1 minute. Add the chopped tomatoes and stock and bring to a gentle simmer. Return the beef to the pan and slowly simmer for 50 minutes until the beef is tender.
4 Serve ladled into bowls, topped with a little soured cream and a sprinkling of chopped fresh dill.
Wine Recommendation – Barossa Valley Grenache Shiraz Mourvedre
Fragrant, violet with a burst of red berryfruits and  a velvety texture, this wine pairs well with  red meat dishes – we've chosen our Paprika Beef and Beetroot Goulash recipe. Find it in the Australian reds section.