Layered Pesto Ratatouille Tart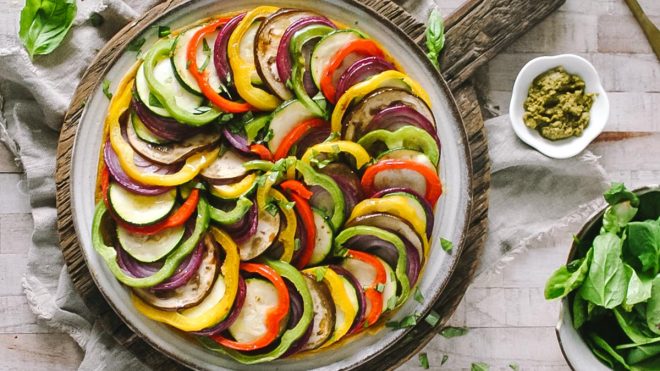 6 servings
1 hour to prepare
Ingredients
For the Pastry Base
1 pack of full butter puff pastry sheet
75ml tomato passata
75g pesto
For the topping
2 red onions, thinly sliced
1 courgette, thinly sliced
1 red pepper
1 green pepper
1 yellow pepper
1/2 small aubergine
1 tbsp balsamic vinegar
2 tbsp olive oil
1 tsp mixed herbs
1 tbsp of grated Parmesan
Bunch of basil eaves
Instructions
METHOD
Pre-heat the oven to 180°C (fac). Allow the pastry to warm slightly, but not room temperature and roll it out onto a baking tray which has been lined with parchment.
Prick the whole surface of the pastry with a fork, using a large dinner plate as a template, cut the pastry into a disk and remove the waste.
Place another piece of parchment on top and then add another making tray to weigh down the pastry to stop it from rising. Cook the pastry in the oven for 10 minutes.
Remove from the oven and allow to cool.
Mix together the tomato passata and pesto and spread it evenly onto the pastry.
Thinly slice all the vegetables and arrange neatly from the outer edge, working inwards with the onion, courgette, aubergine and peppers.
Continue to do this until all the pastry is covered and you have a beautiful layered finish.
Brush with olive oil and sprinkle with salt and mixed herbs.
Turn up the oven to 200°C and cook for 8 minutes until the top starts to colour.
Finish with torn basil leaves, a sprinkle of Parmesan and a drizzle of balsamic vinegar and olive oil.
Serve warm with your favourite salad.
CHEF'S TIP: Why not finish the tart with your favourite cheese like a tasty Lancashire.