Roasted Tomato And Taleggio Pasta Bake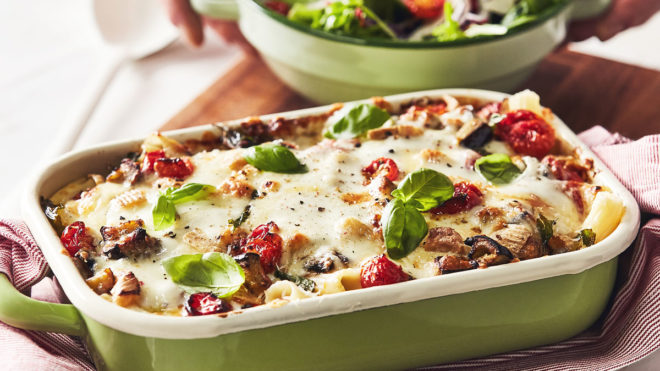 4 servings
45 Minutes to prepare
Ingredients
200g Taleggio, cubed
200g Booths Lancashire cheese, coarsely grated
600g mixed tomatoes cherry or pomodorino left whole, and vine or plum roughly chopped
1 small onion, finely chopped
1 medium aubergine, cut into 2.5cm cubes
2 cloves garlic, finely sliced
1 large handful fresh basil leaves
3tbsp olive oil
1 pinch chilli flakes
1tbsp red wine vinegar
450g rigatoni pasta
Instructions
1 Preheat the oven to 200ºC / Fan 180ºC / Gas 6. Pour the olive oil in a large roasting tin, add the onion and aubergine and cook for 10 minutes until they start to soften and slightly golden on the edges of the aubergine. Add the garlic, chilli flakes and tomatoes.
2 Place in the oven and roast for 20 minutes until the tomatoes have wilted and the aubergine is very tender. Stir in the fresh basil leaves and the red wine vinegar then set the sauce aside.
3 Bring a large pan of water to the boil and cook the pasta according to the packet instructions. Drain well, add the pasta to the roasting tin with the tomato and aubergine sauce and stir through.
4 Spoon a third of the pasta and tomatoes into a large ovenproof dish and then top with a third of the Taleggio and Lancashire cheese. Repeat these layers until you have used up all of the ingredients ending with a good layer of cheese on top. Place in the oven and bake for 15 minutes until golden, crisp and bubbling. Serve with a crisp salad and extra basil leaves.
CHEF'S TIP This is a fantastic vegetarian pasta dish but you could also add pieces of chorizo or pancetta to the tin when cooking the aubergine to add even more flavour.