Moussaka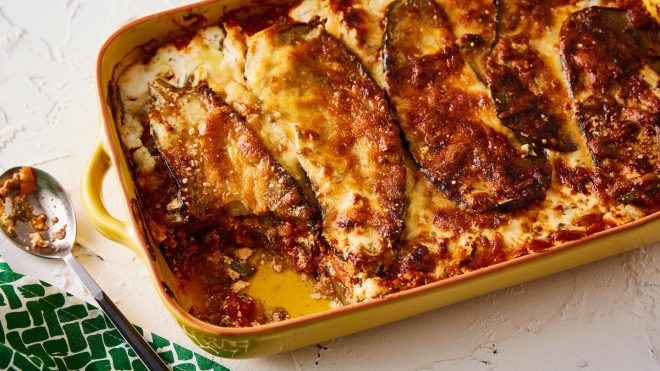 Ingredients
2 aubergines, sliced lengthways 1/2cm thick
Drizzle olive oil
1 onion, sliced
500g lamb mince
2 garlic cloves, crushed
100g tomato puree
400g tin chopped tomato
50ml lamb stock
10g oregano, chopped
1tsp cinnamon
600g tzatziki
100g cheese, grated
50g Parmesan, grated
Salt and Pepper
Serving suggestion
Greek salad
Instructions
We've swapped out the bechamel sauce for tzatziki for a twist on a classic moussaka.
Method
Pre-heat the oven to 180°C (fan)/200°C/400°F/gas mark 6.
Place the sliced aubergine onto a baking tray, drizzle both sides with olive oil, season and roast in a pre-heated oven for 10 minutes.
Meanwhile, heat a drizzle of olive oil in a sauce pan over a medium heat. Add the diced onion and sauté for 5 minutes.
Add the lamb mince and garlic. Cook for 8 minutes.
Add the tomato puree, tinned tomatoes, lamb stock, oregano and cinnamon. Cook for 2 minutes. Remove from the heat, season to taste and set to one side.
Line a 25x25cm oven proof dish with 1/3 of the mince. Top with 1/3 of the sliced aubergine and 200g of tzatziki. Repeat twice and top with the grated cheeses.
Bake in a pre-heated oven for 40 minutes or until golden brown and bubbling.
Serve with a fresh Greek salad.
Chefs Tip
Feeding a crowd? Double this recipe. This is a great Monday meal to use up any leftover roast lamb from the Sunday roast. Store bought tzatziki makes this an easy crowd pleaser with a twist. If you want to make your own tzatziki mix 500g of yoghurt with 100g grated cucumber. Season to taste with lemon juice, salt and pepper.
Wine Match – Beronia Rioja Crianza
Did you know that Rioja Crianzas are designed to be high-quality everyday wines? Beronia has a balanced and sweet palate, with red fruits, liquorice, chocolate and coffee which pairs perfectly with our Moussaka recipe. Find it in the Spanish reds section.