Tomato, Rosemary and Sea Salt Focaccia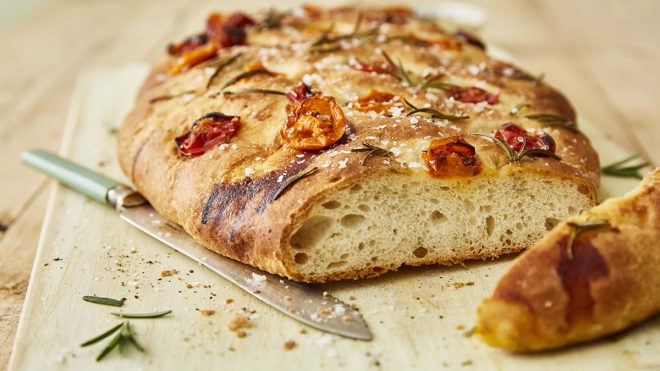 4 servings
1 hour 20 minutes to prepare
Ingredients
1 500g Wrights Garlic and Rosemary Focaccia Bread Mix
3tbsp olive oil
200g Booths speciality tomatoes, halved
2 sprigs rosemary
1tsp sea salt
Instructions
For any first time bread maker, our tomato, rosemary and sea salt focaccia is a delight to make and is the perfect loaf for eating with family and friends.
Method
Place the bread mix into a stand mixer fitted with a dough hook. With the mixer running, slowly add 310ml lukewarm water and 2 tablespoons olive oil. Mix for 5 minutes then place into a clean bowl. Cover the bowl with cling film and leave in a warm place to prove for 20 minutes.
Pre-heat the oven to 200°C (fan)/425°F/gas mark 7.
Lightly dust a work surface with flour. Shape the dough into an oval approximately 20x30cm and place on a lightly greased a baking tray. Allow to prove for 15 minutes.
Using your fingers press into the dough to make dimple marks.
Arrange the tomato halves over the top of the dough, stud with rosemary leaves and scatter over the sea salt. Drizzle over the remaining tablespoon of olive oil.
Bake in a pre-heated oven for 30-35 minutes until golden brown.
Chef's Tip
Swap the tomatoes for pitted black and green olives and use chilli olive oil in this recipe for a fiery kick. This recipe is great as starter, serve with olive oil and balsamic vinegar or why not use the bread to make picnic sandwiches?