Lancashire Pizza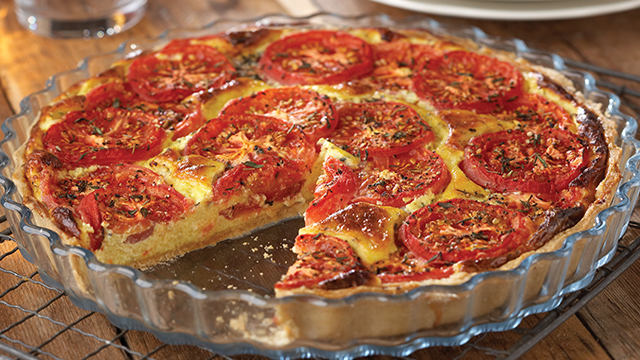 4 servings
110 minutes to prepare
Ingredients
For the filling
200g tub Longley's soft cheese
3 medium free range eggs
2tsp English mustard (grain mustard could be used)
250g Lancashire crumbly cheese, grated
½tbsp caster sugar
5 large ripe tomatoes
1tbsp fresh thyme
Salt and pepper to taste
Olive oil to drizzle over
For the oatmeal flour
300g plain white flour
50g fine oatmeal
50g lard
50g butter
Pinch of salt
Instructions
Pre-heat the over to 200°c / gas mark 6.
Firstly, make the pastry by rubbing the fats into the flour and oatmeal until it resembles breadcrumbs, then add 1tbsp of cold water at a time, until it forms a dough. Roll the pastry out on a floured surface, line the flan dish and pop into the fridge for 15 minutes. Cover the pastry with scrunched up tin foil and bake blind for 10 minutes. Remove the foil and bake for a further 5 minutes and leave to cool.
Make a little cross at the end of the tomatoes making sure not to cut too deep, and plunge into boiling water until the skin starts to peel. Then, plunge into ice-cold water. Then, peel the skin of the tomatoes and slice into thick slices, draining on kitchen roll.
In a bowl, mix the soft cheese, eggs, mustard and Lancashire cheese until well combined, season with salt and milled pepper and turn into the pastry case.
Arrange half of the tomatoes over the cheese mixture and sprinkle over half of the thyme and season with sea salt, milled pepper and caster sugar. Cover with the second layer of tomatoes, season and sprinkle over the last of the thyme. Bake for 40-45 minutes until the cheese mixture is set and golden brown and cool slightly before serving.
Finish by drizzleing over some olive oil before serving if desired and serve with crisp salad.