Tomato, Kale & Goats' Cheese Frittata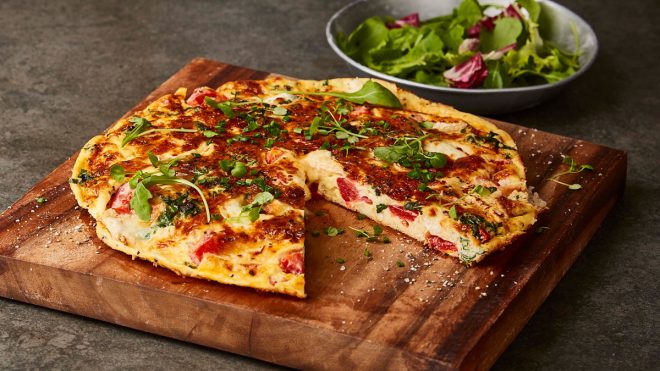 4 servings
20 minutes to prepare
Ingredients
1tbsp olive oil
200g goats cheese
3 tomatoes, quartered
75g kale leaves, shredded
8 eggs
250ml single cream
80g Parmesan, finely grated
Sea salt & cracked black pepper
Instructions
There's plenty of flavour packed into this frittata and once you've got the basic method down it's easy to experiment with your own flavour combinations.
Method
Add the oil to a non-stick frying pan on a medium heat, then throw in the tomatoes, making sure they are evenly distributed.
Whilst the tomatoes begin to cook, turn on the grill to high. Whisk the eggs, Parmesan and cream together.
Blanch the kale with boiling water from a kettle, then rinse under cold water. Squeeze dry.
Add the kale to the frying pan along with the egg mixture then season. Leave to cook for several minutes on the hob until the base of the frittata has started to cook, then spread the goats cheese evenly on top and finish under the grill.
Serve with green salad.
Chefs tip
Why not add chopped chives or your favourite herb to the eggs and cream before cooking.
The optimum time and temperature varies by individual ovens – these are guidelines only. Please ensure all cooked recipes are served piping hot. Keep raw meat separate from cooked food. Use separate kitchen utensils and surfaces for raw and cooked foods, or wash thoroughly in between use. Wash hands after handling raw meat. Some products may only be available in our larger stores. All content © Booths 2017.