Pepperoni Pizza with Artichoke & Bloody Mary Sauce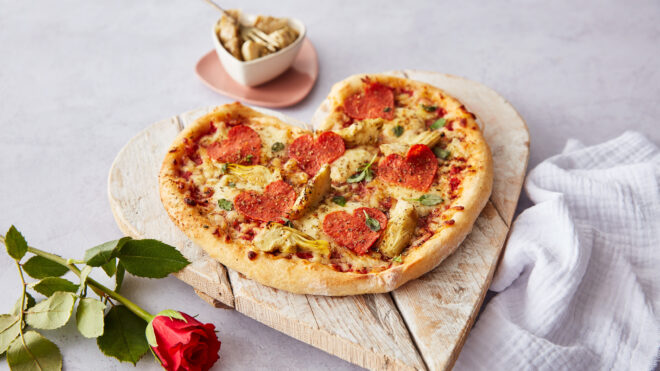 2 servings
20 minutes to prepare
Ingredients
1 quantity Booths easy pizza dough
For the Bloody Mary pizza sauce:
1 shallot, sliced
2 garlic cloves, crushed
25ml olive oil
1 tbsp balsamic vinegar
1 tsp caster sugar
Chilli flakes
1 tin crushed tomatoes
50ml vodka
1/2 tsp salt
25g basil
Salt and pepper, to taste
For The Toppings:
10 slices pepperoni, cut into heart shapes
1/2 mozzarella ball, sliced
1 artichoke, sliced
Instructions
Method:
Preheat the oven to 240°C / 220°C Fan / 475°F / Gas Mark 9 and place a tray in the oven.
For the pizza dough recipe click here.
To make the Bloody Mary sauce, fry the sliced shallot and garlic in the olive oil and then add the balsamic, sugar and chilli flakes.
Remove from the heat and add the crushed tomatoes, vodka, salt and the fresh basil.
Liquidise in a blender and season to taste.
To assemble, form the pizza dough into a heart shape on top of a lightly floured piece of parchment and slide it onto an upside-down thin tray.
Top with the tomato sauce being careful to leave a gap at the edges, adding the heart shaped pepperoni, artichokes and thinly sliced mozzarella.
Add a sprinkle of chilli flakes and slide the parchment off the tray onto the tray in the oven. Be careful as the oven is hot.
After 3 minutes slide off and remove the piece of parchment and continue to cook for a further 3 minutes until everything is coloured and the bread is cooked.
Serve with salad and a bottle of bubbly.
Chefs Tip:
To stuff the crust, place mozzarella at the edges of the dough and roll over tight to enclose the cheese. Now top the pizza as normal for a delicious stuffed cheese crust pizza.