Easy Pizza Dough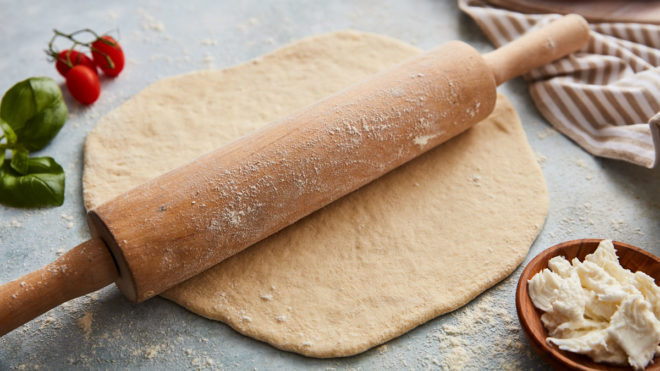 6 servings
23 minutes plus proving time to prepare
Ingredients
500g Wessex Mill Pizza / Pasta Flour
325ml water
5g dried yeast
10g salt
Instructions
Good pizza dough demands excellent flour and this easy dough recipe uses Wessex Mill Pizza & Pasta Flour, which you'll find in stores. Wessex Mill are a small family flour mill based in Wantage, Oxfordshire. The Munsey family have been milling Oxfordshire for over a 100 years and the mill is currently run by fourth generation flour miller Paul, with his daughter Emily studying to become a miller as well. Their flour is milled using only the best wheat from local farms, using a traditional roller milling process.
Method
Combine all ingredients in a large bowl, mixing together with your fingers. Bring the dough together with your hands and transfer to a lightly floured work surface. Knead for 8 minutes.
Place the dough in bowl and cover with lightly oiled cling film. Leave to rise for one hour.
Remove the risen dough from the bowl and knock back for 2 minutes. Divide into 6 even pieces, cover loosely with clingfilm and leave to prove again for a further 10 minutes.
Preheat the oven to the highest setting. Roll out your first piece of dough and place it onto a floured baking tray. Add any sauces and toppings before baking in the oven for 8 minutes, or until the edges are puffed up and golden.
Repeat with the remaining pizzas and serve immediately.
Chefs tip:
This dough can also be used for flatbread. Simply break off a small piece of dough and roll out to approximately 2mm thick. Heat a little oil in a frying pan and cook the flatbreads for 1 minute on each side. Serve warm with hummus.
If you decide to make one of our recipes, why not share it with us on social media for the chance to win? You could win a £10 Booths voucher and the photo of your creation will feature in our next magazine.
Please see below for individual channel entry requirements:
Facebook: Post a photo to our Facebook page and use #BoothsRecipes.
Twitter: Tweet us your image @boothscountry and use #BoothsRecipes.
Instagram: Tag us in your image @boothscountry and use #BoothsRecipes.
Terms and conditions apply, tap here to view.