Gazpacho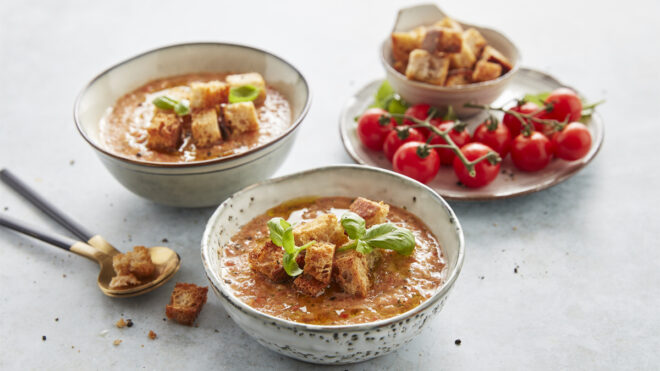 4 servings
10 mins to prepare
Ingredients
For the gazpacho
500g seasonal tomatoes, roughly chopped
1/2 cucumber, peeled and roughly chopped
1 clove garlic
2 tbsp red wine vinegar
2 tbsp olive oil
5g basil leaves
Tabasco sauce
Salt and pepper
for the Sourdough croutons
2 slices Bells of Lazonby 1946 Sourdough, sliced into cubes
A drizzle of olive oil
Salt and pepper
To serve
A drizzle of olive oil
Basil leaves
Instructions
METHOD
For the Gazpacho
1. Place the tomatoes, cucumber, garlic, vinegar, olive oil and basil leaves into a blender. Blitz until smooth.
2. Add Tabasco sauce to taste and season with salt and pepper. Chill in the fridge for 2 hours.
For the Sourdough Croutons
3. Pre-heat the oven to 180°C (fan)/ 200°C/400°F/gas mark 6.
4. Place the sourdough cubes onto a baking tray. Drizzle with olive oil and season with salt and pepper. Toss to combine.
5. Bake for 15-20 minutes or until golden brown and crispy. Allow to cool and set to one side.
To Serve
6. Spoon the chilled gazpacho into chilled serving bowl. Top with croutons, a drizzle of olive oil and garnish with basil leaves.
Chef's Tip – This is a delicious summer starter using tomatoes at their best. Why not serve in chilled shot glasses as a canape for a summer party.