Classic Beef Stew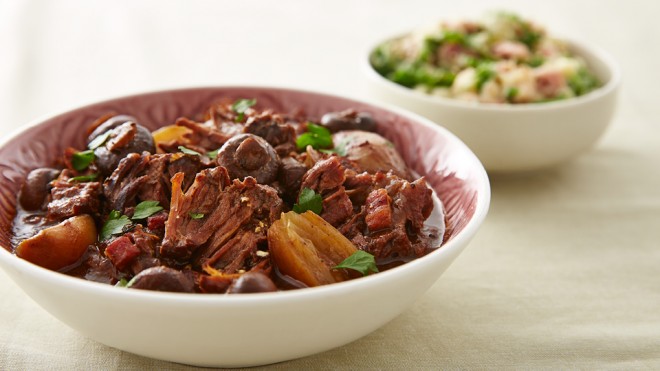 4 servings
3 hours 35 minutes to prepare
Ingredients
50g pancetta, cubed
1tbsp plain flour
1tsp mustard powder
Salt & pepper
800g beef shin slices
1tbsp worcestershire sauce
1tbsp tomato puree
1tbsp balsamic vinegar
2tsp brown sugar
1 bottle Lancaster Red ale
500ml beef stock
8 shallots, peeled
3 cloves garlic
150g button chestnut mushrooms
2 sprigs thyme
To Serve
Flat leaf parsley
Crusty bread or colcannon
Instructions
A really easy, simple way to enjoy a roast dinner that's a complete classic. This works particularly well to feed a crowd if you double it, and it's also great value as it's made with more economic cuts of beef.
Pre-heat the oven to 150°C (fan)/325°F/gas mark 3.
Brown the pancetta in a large oven proof casserole dish for 5 minutes.
Mix the flour and mustard powder in a bowl, season with salt and pepper. Coat the beef shin in the seasoned flour.
Brown the beef shin for 5 minutes each side in the casserole dish. Remove and set to one side. You may need to do this in batches.
Add the Worcestershire sauce, tomato puree, balsamic vinegar and brown sugar to the casserole. Cook for 1 minute.
Add the ale, bring to the boil and boil for 5 minutes.
Add the beef stock, return to the boil then reduce to a simmer. Return the beef shin to the pan and add the shallots, garlic, mushrooms and thyme. Place a lid on the casserole and cook in the pre-heated oven for 3 hours.
After 3 hours check the gravy for seasoning and garnish with flat leaf parsley. Serve in warmed bowls with crusty bread or colcannon.
Chef's Tip
We have used a fruity and rich ale, swap for a light and floral ale in the summer and a full bodied red wine in the winter. This recipe also works well with diced stewing beef.
Love your Leftovers – try this recipe for the ultimate beef butty
If you are going to store leftover stew, cool it as quickly as possible (ideally within 90 minutes) cover it and place into the fridge. Always use your leftovers within two days of storage. Ensure you cook any leftovers until they're steaming hot throughout and importantly, never reheat leftovers more than once.
The optimum time and temperature varies by individual ovens – these are guidelines only. Please ensure all cooked recipes are served piping hot. Keep raw meat separate from cooked food. Use separate kitchen utensils and surfaces for raw and cooked foods, or wash thoroughly in between use. Wash hands after handling raw meat. 
Some products may only be available in our larger stores. All content © Booths 2017.