Brazilian Churrasco Beef Kebabs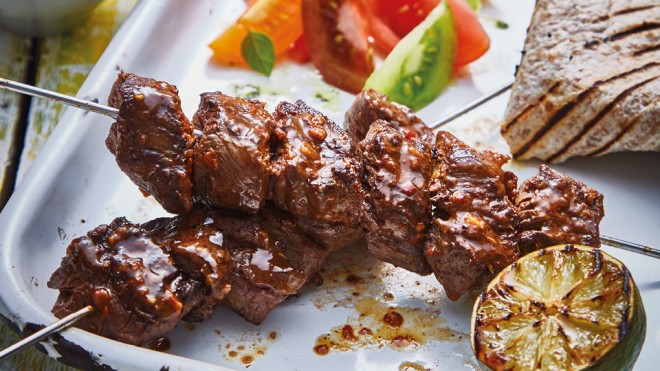 6 servings
15 Minutes to prepare
Ingredients
1kg beef skirt steak cut into 2cm cubes
½ small onion, grated
4 cloves garlic
100ml fresh orange juice
100ml fresh lime juice
150ml extra virgin olive oil
2tbsp sea salt
1tsp black pepper
1tbsp chilli flakes
1tbsp cumin
1tbsp achiote paste
Instructions
1 In a pestle and mortar, crush the garlic, onion, achiote paste, cumin and chilli flakes together with a little of the olive oil. Transfer to a small mixing bowl, add the salt and pepper, whisk in the orange and lime juice plus the remaining olive oil.
2 Place the diced
beef into a shallow, non-metallic dish and pour over the marinade. Leave for at least 4 hours (or up to one day) before removing from the marinade and threading onto metal skewers.
3 Over a hot BBQ or griddle pan, cook for 2-3 minutes on each side before turning, repeat 3 or more times until the beef is cooked through. Remove from the grill or pan, cover with tin foil and allow rest for 10 minutes before serving.
CHEF'S TIP Skirt steak is often used in Brazil for Churrasco, but rib-eye or flank of beef will work well too.