Hungarian Style Vegetable Stew with Potato Dumplings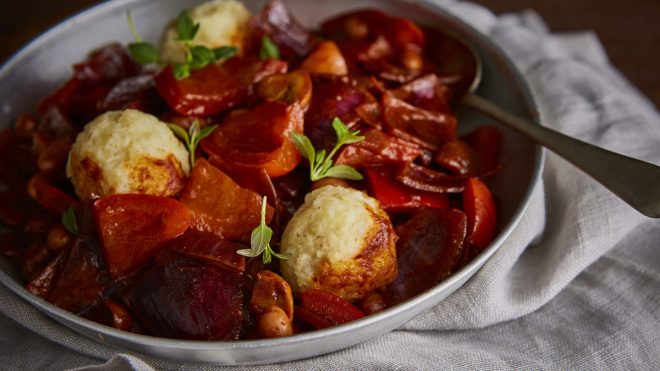 2 servings
20 minutes to cook, 30 minutes to prepare
Ingredients
For the Dumplings
450g potatoes
3tbsp semolina
1tbsp wholewheat flour
30g vegan margarine
Salt, to taste
For the Stew
1 medium onion, finely chopped
1 red bell pepper, chopped into chunks
85g mushrooms
1tbsp vegetable oil
2tbsp paprika
2tbsp tomato puree
1 tin of beans in water such as pinto
Instructions
A delightful Hungarian style hearty stew, suitable for vegetarians and vegans.
Method
For the dumplings…
Peel and dice the potatoes, then add to boiling water and simmer until soft, about 10-15 minutes. Drain them and add to a mixing bowl. Mash them until they're smooth then mix in the semolina, flour, margarine and salt. Knead the dough briefly, then set aside for 30 minutes. After this, form them into 1" diameter dumplings and set aside.
For the stew…
Chop the onion, pepper and mushrooms. Saute the onion over a medium heat until transparent, then remove from the heat and mix in the paprika.
Add in the pepper, mushroom, tomato puree and a little water to create the sauce. Then return to the heat, bring to a simmer, cover and leave until the vegetables are tender.
While it's bubbling away, bring a pan of salted water to the boil, add the dumplings and simmer gently for 15 minutes, drain and add them along with the beans into the stew.
Simmer long enough for the beans to heat through, season to taste, then serve immediately with seasonal vegetables.
Chefs Tip
Feel free to include any of your favourite seasonal veggies at step 2, or clear the veg drawer at the end of the week.