Peanut Chicken Rockets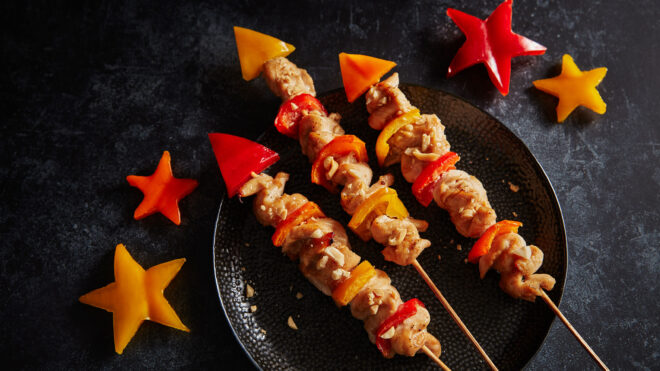 4 servings
40 minutes to prepare
Ingredients
3 tbsp smooth peanut butter
165ml can coconut milk
Zest and juice 1 lime
1 tsp runny honey
1 tbsp soy sauce
3 chicken breast fillets, cut into long, thin strips
1 red pepper, halved and de-seeded
1 yellow pepper, halved and de-seeded
1 orange pepper, halved and de-seeded
50g roasted peanuts, chopped finely
8 skewers
Instructions
1 Place the peanut butter and coconut milk in a small saucepan and heat gently until the peanut butter has melted and has formed a smooth sauce. Remove from the heat and stir in the lime zest and juice with the honey and soy sauce.
2 Place the chicken strips in a bowl and pour over half of the sauce and toss well to mix. Marinade for about 30 minutes.
3 Pre-heat the grill. Cut the peppers into cubes measuring about 3cm and cut out 8 triangle shapes from different coloured peppers, this will form the tip of the skewer to make the rocket shape.
4 Thread the chicken strips onto skewers alternating with cubes of pepper and finishing with a triangle shape for the tip. Place on a grill rack and cook for 15 – 20 minutes, turning regularly until golden and basting every now and then with the extra sauce. Scatter over the chopped peanuts and serve with the remaining sauce on the side.